July's ROCKstar of the Month is Anthony Miozzi. In just under a year, Anthony has evolved from a part-time technician to working as an audio engineer, learning video, rigging lights, and even getting certified to operate Sparkular!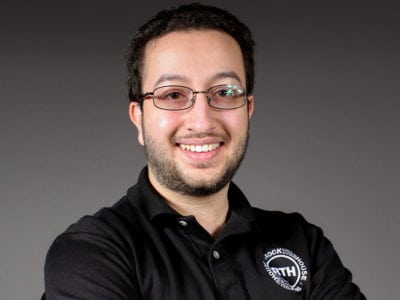 "I enjoy being a part of and seeing something really cool come together, like when lights are timed perfectly with music or flawless screen transitions happen at a big conference. When a show goes well, it's a great feeling and you always learn something. The ability to constantly learn new things is one of my favorite parts of this job." – Anthony Miozzi, ROCKstar of the Month
Anthony went to school for Audio Engineering and has played in bands, so he's very familiar with studio and live audio. But as someone who loves learning new things, he's always looking to expand his knowledge of both the technical and performance sides of an event. When not at Rock The House, Anthony loves to play and write music of all genres and enjoys learning new languages – he's currently learning over five of them!
A Few Fun Facts About Anthony Miozzi:
Favorite guilty pleasure song? "Me Too" by Meghan Trainor
Favorite song and/or artist? Avenged Sevenfold
Favorite movie? Thor Ragnarok
Favorite TV show? The Office
Favorite post-event snack? Protein bar and then sleep.
Favorite cartoon character? Archer
Biggest fear? Situational heights – I can go up on a mezzanine, but not a 12-ft ladder.
Where's the most interesting place you've ever traveled? The 1000 Islands near Alexandria Bay, NY. It's really pretty, and there's an island in the middle of the lake that's right on the border of the US and Canada. There's a huge mansion there called Boldt Castle that's really cool.
How do you take your coffee? With cream and chocolate syrup.
If you could have a superpower, what would it be and why? Telekinesis –It would be fun to lift heavy things with my mind. So, if a car is parked badly in a parking spot, you could move it over and then be able to park next to it.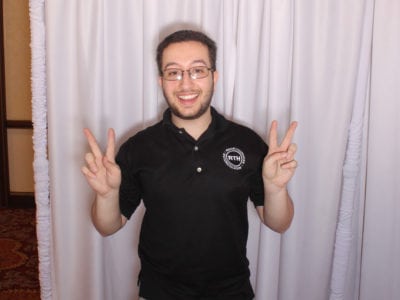 "Since Miozzi joined the team, he has gone from helping out part-time in the shop and with load in/outs to being the main audio engineer for all the Rock The House LIVE! gigs! While we knew he had audio experience, he has blown us away with his skill level and his customer service! Not only is he always on time and works hard on every event, but he is also such a ball of positive energy! I don't think there is anyone on our team that doesn't enjoy working with him." – Tricia Adams, Production Assistant
Congratulations to Anthony on being July's ROCKstar of the Month! Interested in working with rockstars like Anthony to produce your next event? Contact our team of event professionals today to get started! Photos courtesy of the Rock The House Photo Archive.
https://www.rthgroup.com/wp-content/uploads/2018/02/RTH-WEB-LOGO-SIZE-03-400x66.png
0
0
mhadder4561
https://www.rthgroup.com/wp-content/uploads/2018/02/RTH-WEB-LOGO-SIZE-03-400x66.png
mhadder4561
2018-07-30 14:50:36
2018-07-30 15:26:57
ROCKstar of the Month of July: Anthony Miozzi