This May we are happy to shine the ROCKstar of the Month spotlight on Brian Raymont, one of our many talented MCs! No matter what happens while he's at an event, Brian is always ready to adjust and puts nothing before the event and needs of our customers.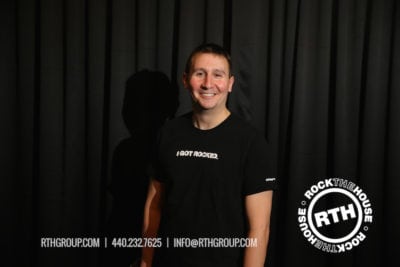 Specializing as a wedding MC for Rock The House for 3 seasons now, Brian's enthusiasm on the microphone captivates the audience's attention at every show and ensures that the energy of the room is always at an all-time high. Working hard to facilitate his events and keep all scheduled formalities on time week in and week out, both Brian's organizational and interpersonal skills are among some of the best on our team.
A Few Fun Facts About Brian Raymont:
Favorite TV Show or Movie? The WWE Network… Especially old school legends like Hulk Hogan, The Rock, and Macho Man Randy Savage.
Favorite Song: "Don't Stop Believin'" by Journey ("I'm an old soul… An 80's baby!")
Favorite Musical Entertainer? Billy Joel
Most Relatable TV Character? Doug Funny from "Doug"
Favorite Snack Before or After An Event? None – "I usually don't eat right before or after events… I'm often too busy focused on making sure everything on the show goes right!"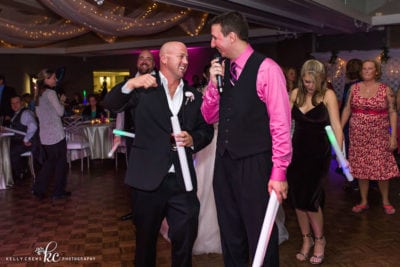 "At every event I do, I treat it like game 7 of the NBA Finals; You're never gonna get another chance to have a perfect wedding and to go for the gold. Anytime I get to work with our other great entertainers… Or anytime you can win a game 7 and have a great night, you have it made. It's the best job in the world." – Brian Raymont
When not performing with Rock The House on the weekends, Brian prefers relaxing and spending time with his wife Erin. Additionally, Brian also serves as the Assistant Atheltic Director at Padua Franciscan High School and has received both his Bachelor's Degree in Sports Studies and Master's Degree in Arts in Education and Sports Administration during his time spent at The University of Akron.
"The lengths Brian goes to guarantee our clients' satisfaction are unmatched. That surely has something to do with the constant praise we get from past couples who have worked with him." – Ben Allison, Director of Human Development
Congratulations again to Brian for being awarded ROCKstar of the Month for May and for being an invaluable asset to our team! Interested in working with Brian for your next event? Contact our team of event professionals to get started today! Photos courtesy of Kelly Crews Photography and the Rock The House Photo Archive.
https://www.rthgroup.com/wp-content/uploads/2018/02/RTH-WEB-LOGO-SIZE-03-400x66.png
0
0
mhadder4561
https://www.rthgroup.com/wp-content/uploads/2018/02/RTH-WEB-LOGO-SIZE-03-400x66.png
mhadder4561
2017-05-16 08:44:11
2020-02-12 10:44:48
ROCKstar of the Month of May: Brian Raymont