Our ROCKstar of the month for July is none other than Myke Delano! Also known by his stage name DJ Flightz, Myke is one of our finest DJs and has been a part of our team for about four years now. Along with DJing, Myke also works part-time in the shop as a Rock The House technician.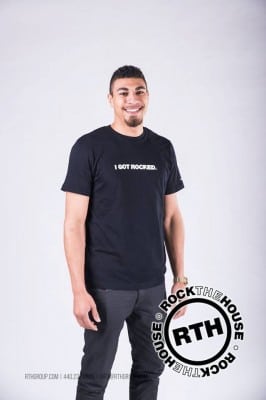 Myke's favorite part about working for Rock The House is the wide variety of events he gets to work and performed. However, when we asked Flightz what his favorite RTH event has been, it's not very easy for him to pick. Myke tells us, "It's hard to decide, but I think that Shaker's 2015 and 2016 Proms are my favorites."
A Few Fun Facts About Myke Delano:
Guilty pleasure song? None; Myke says he's not embarrassed by anything when it comes to music.
Pre-event snack? Beef Jerky, Skittles, and Redbull.
Post event snack? Pretzels.
What is your biggest fear? Not being able to hear… losing my hearing would be horrible. Sound puts me at peace.
What's your favorite Rockstar Quote? "One good thing about music, when it hits you, you feel no pain." – Bob Marley
What artists are your biggest musical influences? A-Trak and Drake
Favorite recommendation on SnapChat or Instagram? Dillion Francis is pretty funny. Sometimes a bit too ridiculous, but still funny.
What got you into DJing? My fraternity. I would just randomly DJ and play music since I was always a music junkie. I also loved having the newest music and just always playing it for people.
Although Myke loves DJing for Rock The House, he says that his dream job would be owning a cigar bar and lounge, with one of our lead entertainers Travis Rose as a stand-up comedian. However until that day comes, Myke is always prepared to tackle any event, and can always be counted on to keep the people dancing!
"I attribute much of Myke's success to his continued dedication to the art of DJing. He has always possessed raw talent but it's now evident that the practice Myke puts in outside of work has elevated his performances year to year.  Myke's maturation as an entertainer has been awesome to witness. Regardless of the type of event or demographic, he has an uncanny ability to read a crowd and keep the energy on the dance floor rocking all night. DeLano in an invaluable asset to Rock The House and we are super fortunate to have him as one of our lead entertainers. A great employee, an incredible DJ, but ultimately, he is an even better person!" – Travis Rose, Talent Director
https://www.rthgroup.com/wp-content/uploads/2018/02/RTH-WEB-LOGO-SIZE-03-400x66.png
0
0
mhadder4561
https://www.rthgroup.com/wp-content/uploads/2018/02/RTH-WEB-LOGO-SIZE-03-400x66.png
mhadder4561
2016-08-04 10:24:23
2016-12-22 10:30:51
ROCKstar of the Month of July: Myke Delano (DJ Flightz)