August's ROCKstar of the Month is Nick Alder! You can find Nick's friendly face at many of our events as a Photo Host! He's always ready to help our guests celebrate their special days, and we couldn't be happier to call him this month's ROCKstar.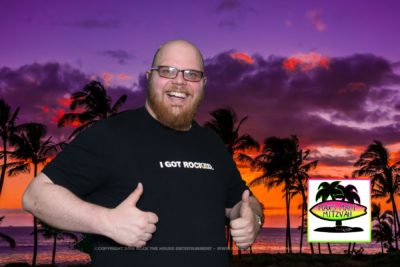 "I know this is a frequent answer amongst my RTH teammates but my favorite part of working at RTH is truly the people. Working with so many awesome people and making events ROCK the way that we do is what I enjoy most. I find it so rewarding making our clients happy. It's a great feeling, as a photo host, to hand over the scrapbook at the end of the night and see the smiles on their faces as they look at the memories from the night." – Nick Alder, ROCKstar of the Month
Nick began working at Rock The House about 4 years ago. He had gone to high school with both Sean Tyrrell and Jeremy Guffin, two of our awesome tech ROCKstars. They kept telling Nick that with his theater background he would be a great asset to the team and he'd really love working in the live events industry. It took him about two years, but he finally joined the Rock The House team. And, as he says, the rest is history!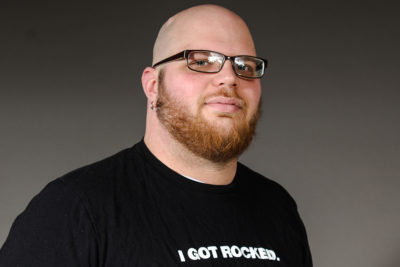 A Few Fun Facts About Nick Alder:
Favorite guilty pleasure song? Not gonna lie, it's "Baby Shark" or "What Does the Fox Say?"
Favorite song and/or artist? Growing up it was always The Hamptons, and now it's Daft Punk
Favorite movie? Depends on my mood; it's between Fight Club and Scott Pilgrim vs. the World
Favorite TV show? Agents of Shield
Favorite pre-event snack? Apple
Favorite post-event snack? A beer
Favorite animated character? Ichigo Kurosaki from Bleach
Biggest fear? Heights
Where's the most interesting place you've ever traveled? New York City – the energy the city has! I haven't traveled out of Ohio much but after seeing NYC on the TV all the time, finally getting to visit was so surreal!
How do you take your coffee? Black with 3 sugars
If you could have a superpower, what would it be and why? Superintelligence, because I could find my way out of any problem.
"Being dubbed ROCKstar of the Month is overdue for Nick. He wants to work, wants to learn more, wants to be here. He's the ultimate team player. Nick is always ready to help out the team; if he's available you know he'll be there. He's really grown into the role of photo host and gained confidence in it. I know when he's staffed on an event he will go above and beyond to make sure everything is done right. He is someone we can depend on." – Kristen Milius, Photo Manager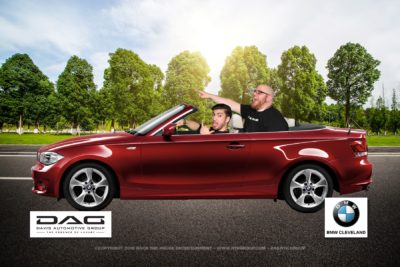 Nick recounts the beginning of his journey with RTH. Around the time he first started, he worked a wedding at Grays Armory in downtown Cleveland. After the event, he handed the bride and groom their scrapbook with all the photos from their photo booth. He says they looked at him and said, "It felt like you belonged here, like we invited you to our wedding." It's a special memory he'll always remember.
When he isn't ROCKing his role as a photo host, Nick can be found working his full-time job. In between balancing both jobs, you can find him playing video games and/or Dungeons and Dragons.
Congratulations to Nick on being August's ROCKstar of the Month! Interested in working with ROCKstars like Nick to produce your next event? Contact our team of event professionals today to get started! Photos courtesy of the Rock The House Photo Archive.
https://www.rthgroup.com/wp-content/uploads/2018/02/RTH-WEB-LOGO-SIZE-03-400x66.png
0
0
mhadder4561
https://www.rthgroup.com/wp-content/uploads/2018/02/RTH-WEB-LOGO-SIZE-03-400x66.png
mhadder4561
2019-08-28 17:00:23
2020-02-12 11:28:30
ROCKstar of the Month of August: Nick Alder