Evan Guffin: Technician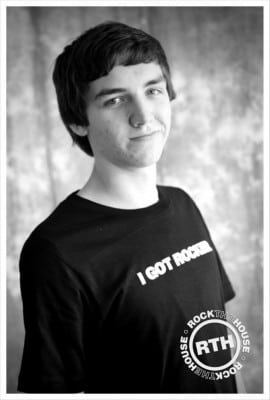 Evan has been with Rock The House just short of one full year and he has already made his mark. A hard worker with a real drive to learn, Evan has what makes the best of us shine. There is a difference between a "willingness to learn" and real drive and Evan's got it. Beyond his job performance, he has quickly become part of what makes the Rock The House culture something special. He goes above and beyond and has an awareness of everything going on each day and not just the show he has been assigned to.
Our technicians are our lifeblood now in 2012. Rock The House may have started out as a DJ entertainment company but it's grown beyond that designation due to the acquisition of talented technicians such as Evan. The success of our ability to grow can be attributed to their hard work. It's not as glorious of work as entertainers (because they are rarely in the spotlight) but our tech team is just as important.
Production manager, Ben Allison, is impressed with both his adaptability to learn on the job as well as Evan's attitude. "He is never negative and is always looking for a better way to accomplish his tasks", says Ben. He also states that Evan's easy going nature is refreshing during critical points in events where big egos would have got in the way.
Evan told us his favorite part of being on the Rock The House team is how we transform a venue for an event. "I love walking into a venue and knowing it's going to be a completely different room by the time you're event starts…then at the end, it's like we were never there", says Evan. What is all the more impressive is that Evan is also going to Full Sail University for event production. This means we are only seeing the beginning of what is sure to be an impressive career in creating event experiences.
https://www.rthgroup.com/wp-content/uploads/2018/02/RTH-WEB-LOGO-SIZE-03-400x66.png
0
0
mhadder4561
https://www.rthgroup.com/wp-content/uploads/2018/02/RTH-WEB-LOGO-SIZE-03-400x66.png
mhadder4561
2012-07-02 11:21:04
2012-07-02 19:47:49
July Team Member of the Month