As we slowly ramp up into our busy summer season, we find it only fitting that RTH Technician Clay Sullivan is awarded our April ROCKstar of the Month award! Clay is currently a student at Kent State University and has been a part of the Rock The House family for about a year now. While ROCKstar of the Month is usually reserved for more of our veteran ROCKstars, Clay's knowledge, skill, and diligence make him more than worthy of this title.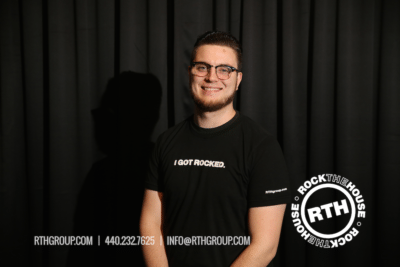 "Clay has an incredibly strong work ethic and is always a team player. If you have something that needs to get done, Clay is definitely the guy." – Ben Allison, Director of Human Development
Clay is an audio pro and does many different tasks, including assisting with working sound for Rock The House Live!'s band practices and live shows. Holding near and dear to our world-class customer service standards, Clay is known for doing whatever it takes to make our clients' events a success each and every week!
A Few Fun Facts About Clay Sullivan:
Favorite Group or Artist? The Foo Fighters
Favorite Movie: The Shawshank Redemption
Favorite Snack? Salted Almonds
Most Relatable TV Character? Ben Wyatt from "Parks & Recreation"
Favorite Thing About Being on the RTH Team? "Getting to do different things every day!"
"I really enjoy working with such a diverse group of people, and learning skills that will help me with my college major: Digital Media Production." – Clay Sullivan
We thank Clay for all the hard work he puts in at every time he's with our team, and congratulate him again on his ROCKstar of the Month award! From miscellaneous shop tasks to live event production, Clay is always eager and ready to help out any way he can!
Interested in working with Clay for your next event? Contact our team of event professionals to get started today! Photos courtesy of the Rock The House Photo Archive.
https://www.rthgroup.com/wp-content/uploads/2018/02/RTH-WEB-LOGO-SIZE-03-400x66.png
0
0
mhadder4561
https://www.rthgroup.com/wp-content/uploads/2018/02/RTH-WEB-LOGO-SIZE-03-400x66.png
mhadder4561
2017-04-25 09:42:04
2017-04-25 09:45:38
ROCKstar of the Month of April: Clay Sullivan