January's ROCKstar of the Month is Stephanie Rose! Stephanie began her career with RTH as our Director of First Impressions and in a short amount of time, she moved into the Marketing Assistant role, and then into the Marketing Manager role. Her ambitious attitude and can-do personality have taken her far and it's no wonder why she's become such an integral part of the team. After all her hard work in this very busy wedding show season, we're happy to call Stephanie our ROCKstar of the Month!
"My favorite part of being on the RTH team? I will gladly join the bandwagon with my teammates and say that it's the people. This is truly such a hardworking, hilarious bunch. Never in my life have I had coworkers who make me laugh this hard, push me to always be better, let me be my weird self, teach me when I don't know what the heck lighting fixture I'm talking about, let me snuggle their office dogs when I'm anxious, and high five me when we succeed together… and that's just in the events of a single day." – Stephanie Rose, ROCKstar of the Month
As Marketing Manager, she primarily works trade shows and non-profit events. But the most memorable event she's ever worked was a celebration of life with the theme "Love is all there is." Stephanie says, "It was the most beautiful memorial to a much-beloved woman. Our team had the honor of assisting with audiovisual needs and creating a scrapbook of memories from the night. It was a reminder of just how large a ripple can be created through simple love and kindness." She feels this impactful event will stay with her forever.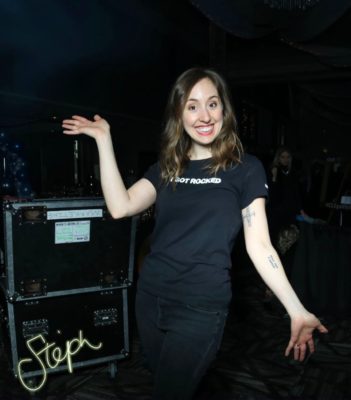 A Few Fun Facts About Stephanie Rose:
Favorite song and/or artist? Song: "Moonage Daydream" by David Bowie | Artist: Real Estate

Favorite guilty pleasure song? "Good Vibrations" by Marky Mark and the Funky Bunch
Favorite movie? Pride and Prejudice
Favorite TV show? Veronica Mars
Favorite pre-event snack? Usually Uncrustables and/or microwave burritos from home
Favorite post-event snack? Probably the classic RTH answer: Taco Bell. As Marketing Manager, I should probably work on a sponsorship deal with them!
Where's the most interesting place you've ever traveled to? When I was young, my family and I went to a bioluminescent day in the Carribean. It reminded me of my favorite movie as a child, FernGully. In the movie, a fairy jumps through puddles that light up when touched. It was just like that on our vacation. That day had my sisters and I convinced that magic was real.
What gives you energy? Honestly, whenever I'm with my family playing games, throwing darts, and cracking each other up. Laughing with family and friends is what I find most energizing.
If you could have a superpower, what would it be and why? I definitely want to be able to fly – I've had reoccurring dreams since I was a kid about flying.
Favorite pizza topping? I know this is a very Popeye the Sailor answer, but spinach all the way.
Do you have any pets? No, I don't. I wish. I'm very much a dog person and when Steve brings Frank and Blue into the office I just snuggle them and pretend they're my dogs.
"January is a very busy time for the Marketing Department as on top of their normal responsibilities, they plan and execute the beginning of Wedding Show season. As Stephanie's second year with these responsibilities, she has taken what she learned and applied it to provide the best possible experience for our clients. Stephanie continues to innovate and doesn't rubber stamp any responsibilities. She has taken every effort to not only grow professionally but also personally and I'm very proud of her and her achievements so far!" – Amy Van Duyne, Partner & Vice President of Operations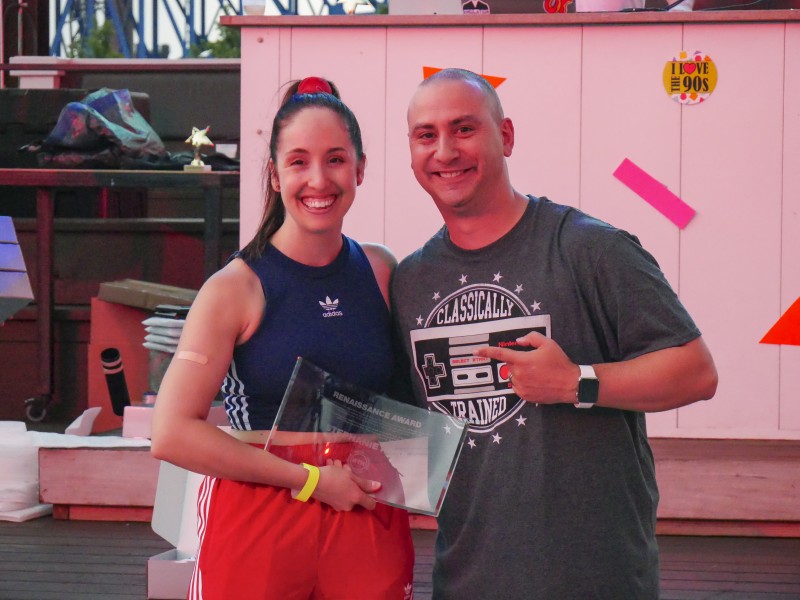 Stephanie credits Rock The House in helping her grow in courage and build connections throughout the Cleveland community. "When I started, I was working at the front desk, assisting with sales, and not quite sure what the future would hold. The leadership team must have seen something I didn't and opened the door for me to grow into my current role. As someone who is always "my own worst critic," it has meant the world to have teammates that believe in and support me through new challenges and growing pains."
When Stephanie is not at RTH leading the Marketing Department, she can be found exercising, working on her web coding skills, and taking care of her 30 house plants. She also enjoys spending time with her friends and family, especially playing board games together.
Congratulations to Stephanie on being January's ROCKstar of the Month! Interested in working with ROCKstars like Stephanie to produce your next event? Contact our team of event professionals today to get started! Photos courtesy of the Rock The House Photo Archive.
https://www.rthgroup.com/wp-content/uploads/2018/02/RTH-WEB-LOGO-SIZE-03-400x66.png
0
0
mhadder4561
https://www.rthgroup.com/wp-content/uploads/2018/02/RTH-WEB-LOGO-SIZE-03-400x66.png
mhadder4561
2020-02-01 13:11:26
2020-02-12 10:58:48
ROCKstar of the Month of January: Stephanie Rose