Congratulations to April's ROCKstar of the Month, Ryan Durfee! For over six years, Ryan has been an essential part of the production team. As Production Manager, he constantly works to improve our inventory system, translate client visions into reality and continually goes the extra mile for clients and teammates.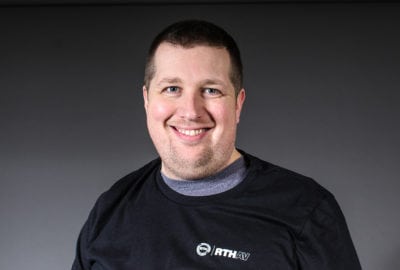 "My favorite thing about being on the Rock The House team is being a part of such a large variety of events. It's really rewarding to know that the work we put in makes some of the most important days of people's lives better." – Ryan Durfee, ROCKstar of the Month
While there are many roles to play and reasons to work in the event industry, Ryan appreciates the "man behind the curtain" aspect of the job. He enjoys the opportunity to be a part of large, important events, while not having to be the person on stage talking.
Of the many events that Ryan has worked, his favorite was the Cleveland Public Theatre's Pandemonium fundraiser. This event features all sorts of theatrical elements wrapped into one day and happening simultaneously across multiple stages.
A Few Fun Facts About Ryan Durfee:
Favorite guilty pleasure song? "Barbie Girl" by Aqua… Not because I like the song, but because when I was in school, I programmed my automated lighting design final to that song. I'm pretty sure it's the reason I aced the exam.
Favorite movie? Shawshank Redemption
Favorite post-event snack? Anything that's open at 3AM. Usually, it's Taco Bell.
Favorite cartoon character? Archer
If you could have a superpower, what would it be? I'd be Batman.
Where's the most interesting place you've ever traveled? I once went to Guatemala for a mission trip. We moved 80,000 rocks up a hill to build a patio!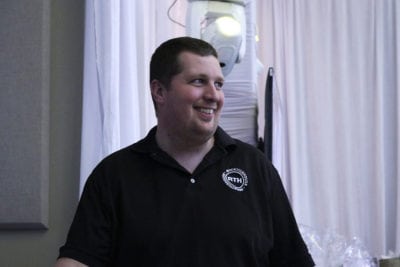 "When Ryan started at RTH, he was part of a three-person team overseeing 700 events. He now oversees a staff of 25, executing 1,800 events. Ryan continues to see down the pipeline and knows what is needed for the department to grow. He works hard to develop his skills and is always bettering himself as a leader and team member. Ryan's focus is always people first, equipment after." – Ryan Konikoff, Chief Operating Officer.
Congratulations to Ryan on being April's ROCKstar of the Month! Interested in working with rockstars like Ryan to produce your next event? Contact our team of event professionals today to get started! Photos courtesy of the Rock The House Photo Archive.
https://www.rthgroup.com/wp-content/uploads/2018/02/RTH-WEB-LOGO-SIZE-03-400x66.png
0
0
mhadder4561
https://www.rthgroup.com/wp-content/uploads/2018/02/RTH-WEB-LOGO-SIZE-03-400x66.png
mhadder4561
2018-04-30 13:37:34
2018-04-30 13:37:34
ROCKstar of the Month of April: Ryan Durfee