ROCK THE HOUSE LIVE! – HIGHLIGHT REEL from RTH Multimedia on Vimeo.
Cleveland is a town that loves to ROCK. And the words "rock and roll" invoke all kinds of imagery – heads banging, messy hair, and all manner of debauchery. Now let's try "party band." What do you see? Your uncle's classic rock cover band playing in a divey bar? Sloppy, neon-clad dudes dancing around at a college bash? Or perhaps you imagine a group that specializes in only one style of music – Top 40, Motown, Rock, Pop, etc.
So, what is a party planner to do? You want entertaining, genre-spanning music and professionalism, but you're struggling to find it.
A few years back, Rock The House Entertainment encountered this exact challenge. Our team was planning a couple big events that needed a strong party band. "As we searched around the region, we couldn't find an act that we felt comfortable putting on stage at an array of events and that could consistently and frequently perform at a top level," says Matt Radicelli, Founder and CEO of Rock The House Entertainment.
True to form, the team came up with a solution. "We set out to bring together truly talented individuals that were passionate, caring, and sincere about their work and the people around them," says Radicelli. "Our goal was that the band would have the same style and flair of our brand. They would be clean cut and professional, without any of the negative stereotypical characteristics of a party band."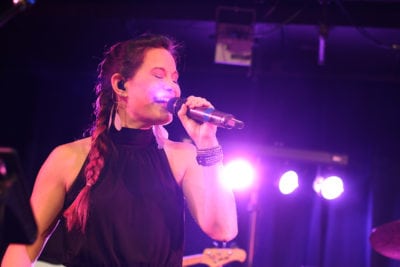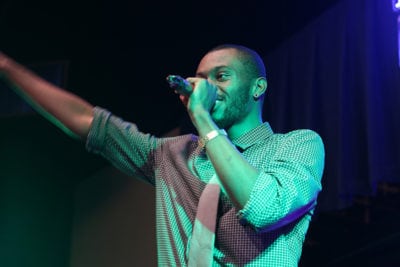 Enter Rock The House Live!, a high energy, dance-driven party band, made up of Cleveland's most talented musicians and vocalists. The group tailors its music to any occasion – be it a wedding, corporate event, high school dance, or bar show – and they're constantly adding music to their repertoire.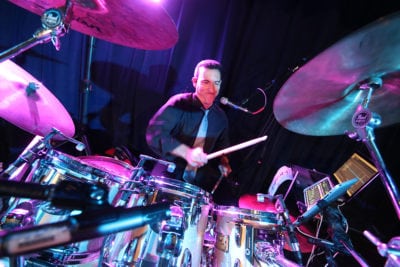 We interviewed Dennis Nero, bandleader and drummer of Rock The House Live!, and Jeff Kutz, VP of Sales, to find out more about this impressive group.
How would you describe Rock The House Live?
Jeff Kutz: "Our band's specialty is that they're a party band. That means that they cover all genres and don't just specialize in oldies or current music. On top of being talented musicians, they're energetic performers. They go out into the crowd and interact with guests and really put on a memorable show."
How does the band prepare for different types of shows?
Dennis Nero: "Once a show is booked, the RTH team gives us an idea of the genres and specific artists that the client likes, and we start tailoring the set list. We figure out how many of the songs we are able to start learning and we get to work. We're always learning music and always trying to change and grow. It keeps it interesting!"
Besides rehearsals, how does the band prep for shows? Is there a pre-show routine?
DN: "This group is a bunch of really professional, amazing musicians that all take complete pride in doing what they do. With this band, it's all homework. You learn your parts, then at practice, we see where we're at and what work needs to be done. Literally, 100% of the time, we hit the stage for a show and it is gold. Everyone knows what they have to do. These are the highest quality musicians I've ever played with."
What are some common concerns/misconceptions about hiring a live party band?
JK: "People tend to think that a DJ can cover more music than a band. In this case, that couldn't be farther from the truth. Our band covers every single genre."
DN: "We're like a live band running as a DJ, in a constant medley. Like a DJ, there are no stops. By doing that, you get to hit on almost 60 songs."
JK: "On top of that, when you book our band, you get a DJ/MC combo as well. So when the band is on break, the music doesn't stop. Also, you get a master of ceremonies who will run your evening flawlessly, entertain the crowd, and make sure all formalities are taken care of."
Final thoughts?
JK: "In the end, every client's needs are different. Booking a live band has to be the best decision for the client. However, if someone is on the fence and concerned about sound or style, we'd be happy to invite them to a band practice or put them in touch with someone who has booked the band in the past."
DN: "From my experience, if a client wants the energy at their event to be at a completely different level, bringing in Rock The House Live! sets a whole new bar for the energy and fun.
Interested in having Rock The House Live! at your next event? Contact our team today for details and availability! Photos courtesy of the Rock The House Photo Archive.
https://www.rthgroup.com/wp-content/uploads/2018/02/RTH-WEB-LOGO-SIZE-03-400x66.png
0
0
mhadder4561
https://www.rthgroup.com/wp-content/uploads/2018/02/RTH-WEB-LOGO-SIZE-03-400x66.png
mhadder4561
2018-01-23 10:48:36
2018-06-06 10:17:32
Get to Know Our Band: Rock The House LIVE!