How do we survive the madness of March?! With help from our ROCKstar of the Month, John Vlach! In just under 3 years, John has grown from part-time intern to full-time Graphic Designer. A vital member of our Marketing Team, John works on everything from event highlight videos to photo station designs to print media and collateral.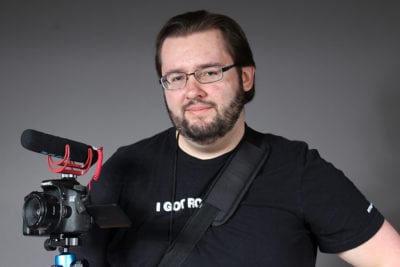 John says his favorite part about being on the Rock The House team is being a part of a diverse group of people who all do different things, but work together to produce amazing events.
"We all pull together as a team and help in the ways that we can. Different team members specialize in different things, but we all have the same goal. As the graphic designer, I enjoy that I get to create media for clients that highlights their events and then get to see them pleased and enthusiastic about it." – John Vlach, ROCKstar of the Month
A Few Fun Facts About John Vlach:
Guilty pleasure song? "The Middle" – Zedd, Maren Morris, Grey
Pre-event snack? Cookies from Subway
Post event snack? Nothing is open that I like, so I go home and make a sandwich – like a BLT.
What's your favorite movie? Forrest Gump
What's your favorite TV show? Monday Night Raw
What's your favorite song/artist? Envoi
If you could have a superpower, what would it be and why? When I was in vocational school, I did a short film about a watch that allowed the user to freeze time. The main character got greedy with the power and abused it. As a consequence, the watch disappeared, and he was stuck in frozen time. So, I would like that power, as long as I didn't get stuck.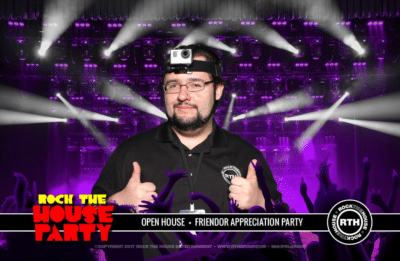 In addition to working in-house to create amazing content, you can frequently find John on-site filming or photographing events. Of the many events that he's had the pleasure to capture, John shared that the MetroPCS Dealer Summit in Dallas was one of his favorites!
"Working with MetroPCS allowed us to expand our capabilities as a company and I got to do things I've never gotten to do before. Usually, we're in Northeast Ohio and so going to Dallas was an exciting new experience." – John Vlach, ROCKstar of the Month
John loves being on big events with the team but also thrives on solo videography outings. Another event he enjoyed took place at the Mansfield Reformatory. There, he had the opportunity to film the Entrepreneurs Organization during one of their educational programs. John loved the unique location of the shoot, as well as the fun elements that EO incorporated.
"John is one of the hardest working people I have ever met. You can see the passion he has for his craft in every detail of what he does. He is meticulous, creative, committed and so supportive of this team. John is the media-savvy engine that propels the marketing department forward, allowing us to be imaginative and innovative. I'm so proud to have him on this team and can't wait to see what he creates next!" – Stephanie Rose, Marketing Manager
In his free time, you can find John honing his craft by shooting stock footage, reading articles, or watching tutorials. John also enjoys watching WWE wrestling and NFL football.
Congratulations to John on being March's ROCKstar of the Month! Interested in working with rockstars like John to produce your next event? Contact our team of event professionals today to get started!
You can also check out some of John's most recent work for us on our YouTube Channel. Keep up the great work John, and thanks for everything that you do!
Photos courtesy of the Rock The House Photo Archive.
https://www.rthgroup.com/wp-content/uploads/2018/02/RTH-WEB-LOGO-SIZE-03-400x66.png
0
0
mhadder4561
https://www.rthgroup.com/wp-content/uploads/2018/02/RTH-WEB-LOGO-SIZE-03-400x66.png
mhadder4561
2018-03-28 15:32:40
2018-03-28 15:39:32
ROCKstar of the Month of March: John Vlach