Growing With RTH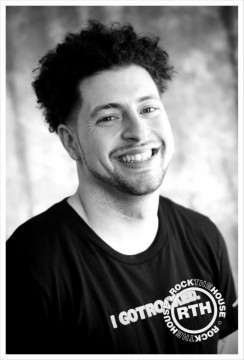 Julian has been with Rock The House for a total of nine years which makes him one of our senior entertainers. Being with Rock The House this long has given him the opportunity to be someone others look to for direction and inspiration. He has taken that opportunity seriously. His career has not been defined by it's length but how he has evolved along side us. "Watching a company I've been with for a significant time grow from a small garage to where it is at now has been a pleasure", says Julian.
Rock The House has a number of specialists who are really great at the one area they contribute to on a client's event. Julian, however, is someone who has excelled at quite a few areas because he's not satisfied with being just "good" at one thing…he wants to master many things. His dancing is where his reputation as a leader began with us and continues to be the bedrock of his connection to a number of communities in Northeast Ohio. The world of dance thrives on the mentor/student relationship and as Julian has come through the RTH ranks, he has taken that philosophy and applied it to his work ethic. COO, Ryan Konikoff, sees this as Julian's most powerful contribution: "Julian enjoys making sure he always has a newer staff member on his team because he enjoys training and mentoring new Rock The House staff members." "This is such a important indicator of a team leader who is worried about the whole and not just themselves."
Julian has transitioned from dancer, to DJ ,to MC, and now to one of the top MCs. Ryan explains why Julian was the unanimous selection for the team member of the month: "Julian achieved the single most event requests in the 30 days of all employees." "Julian has become a shining face for many venue and event planners, we have received countless notes and emails that he is their GO TO person when he is onsite." Being such an in-demand asset to the success of our company deserves recognition. Julian was recognized in the largest way we can earlier this year as the recipient of the Rock The House Award which honors performance, attitude, and overall impact.
Julian's favorite Rock The House memory was not one of personal achievement but those of our clients:
"As an MC at a graduation party for 3 different guests of honor, I realized I remembered the guests of honor and most of their friends from performing at their Bar and Bat Mitzvahs and birthday parties from years ago." "I had the opportunity to watch these young adults grow into young adults on their way to college."
Having Julian as our last team member of the month for 2013 feels right. We're ending on a strong note with our eyes on the future due in part to his contributions.
https://www.rthgroup.com/wp-content/uploads/2018/02/RTH-WEB-LOGO-SIZE-03-400x66.png
0
0
mhadder4561
https://www.rthgroup.com/wp-content/uploads/2018/02/RTH-WEB-LOGO-SIZE-03-400x66.png
mhadder4561
2013-12-19 11:35:48
2020-02-13 10:39:46
Team Member of the Month: Julian Mendez