It's baaaaaaack! The 22nd annual PartyPalooza will be on November 5th from 11am-3pm at the Cleveland Marriott East. PartyPalooza is Cleveland's entirely FREE event planning showcase! PartyPalooza features a variety of event vendors, from catering and entertainment to accommodations and venues. If you have an event coming up, PartyPalooza is an amazing opportunity to book all your vendors at incredibly discounted rates.
Rock The House is proud to be the presenting sponsor of PartyPalooza 2017. When you think of Rock The House, you naturally think of amazing parties. With over 100 entertainment options, the RTH team knows the importance of keeping your guests engaged. At PartyPalooza, Rock The House offers amazing incentives and promotional pricing that can save you UP TO 70% at your next event! With just a $200 deposit, you can reserve your event date right then and there. This offer only comes around once a year, you won't want to miss it!
While Rock The House has a team of incredible DJs and MCs, we are also very proud of our other entertainment packages! From upgraded dance floors to photo booths and giant games, RTH has everything you need to host your best event yet. Read on for a sneak peek of some of our favorites and make sure to come to PartyPalooza to learn more!
Get Lit with LED Lighting
Rock The House is excited to introduce our new LED panels which are guaranteed to leave your guests in AWE! These light-up panels are customizable to just about any shape or size, whether that be an upgraded LED DJ booth, dance floor, creative wall façade, or even a tunnel for your grand entrance! Whatever you can imagine, Rock The House can make it happen! The possibilities are endless and are sure to bring the WOW factor to your event!
Mirror Booth
Rock The House's Mirror Booth is the latest and greatest photo booth option available. Guests take their photos through an interactive mirror that prompts them to do various actions, sign their pictures when they're done, and even print and share their pictures on social media!
Interactive Sports & Games
Be sure that all your guests have a great time at your next event, on AND off the dance floor, with new interactive activities! From modern classics like LED Ping Pong and Giant 22-Player Foosball to Rock Shots Ultimate Basketball and their new Sports Simulator, Rock The House allows guests of all ages to test their skills and win ultimate bragging rights!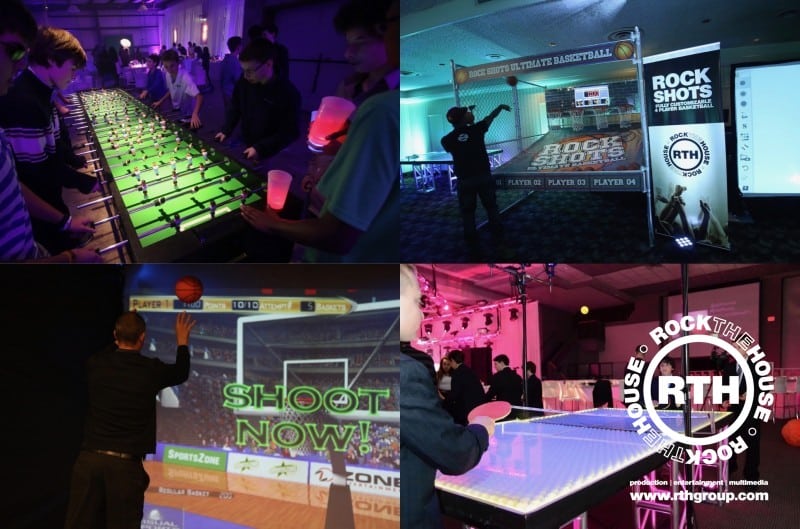 Interactive Touch Screen DJ
Take your event to a whole new level with the Touch Screen DJ by Rock The House! This DJ system allows your guests to see the DJ mix the music right before their eyes. Thanks to the two-way touch screen technology and interactive control surface, you won't just be able to hear the music…you'll watch it come to life! And yes…the guest of honor can help!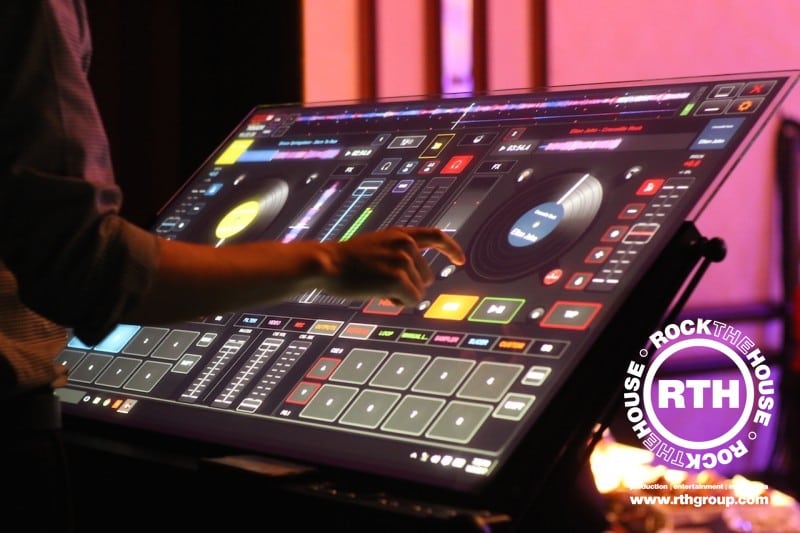 Sparkular Indoor Fireworks
Wouldn't it be nice if you could have fireworks at your event? Now you can with Rock The House's brand new Sparkular units! Sparkular is Cleveland's first and only pyrotechnics effect created for indoor use. Perfect for your grand entrance, special effects, a unique photo, or your grand finale! Sparkular is guaranteed to make your guests say "ooh" and "aah" at your celebration!
There's a reason Rock The House has been entrusted for nearly twenty years with more than 2,500 Simchas. RTH goes above and beyond to ensure that every client's expectations are met and surpassed. We want to make your event ROCK, too! Register for PartyPalooza 2017 to SAVE BIG on Rock The House party packages. We hope to see you there!
https://www.rthgroup.com/wp-content/uploads/2018/02/RTH-WEB-LOGO-SIZE-03-400x66.png
0
0
mhadder4561
https://www.rthgroup.com/wp-content/uploads/2018/02/RTH-WEB-LOGO-SIZE-03-400x66.png
mhadder4561
2017-10-31 16:25:56
2020-02-12 10:42:52
PartyPalooza 2017: Cleveland's Premier Event Planning Showcase