While we highly encourage each couple to cater their wedding to their personalities and style, it never hurts to include a few trends. Of course, you want the details of your wedding to be timeless –especially when you're looking at photos 10 years later. These popular 2020 wedding trends can be easily manipulated to fit your wedding and will look stunning next decade, too!
Vibrant Colors
Say goodbye to pastels and millennial pink, and say hello to bright and vibrant colors! Pantone's color of the year is classic blue, which pairs nicely with a wide array of colors. We recommend sticking to the "classic" description by looking for colors on the elementary color wheel. These are colors in their purest form!
Instead of blush pink or maroon, choose hot pink and red. Some of our favorite combinations are: green and white; blue, yellow, and gray; and pink, orange, and red. Bright colors make such a loud statement that you won't need as much decor. Less decor means more money saved!
Statement Lighting
Leave dull, overhead lighting for the office! One of the easiest and most powerful ways to wow your guests is with statement lighting. Every entry will be a grand entrance if you light your venue with unique lighting options. Consider uplighting, monogrammed gobo projections, moving spotlights, dramatic chandeliers, or an LED dance floor.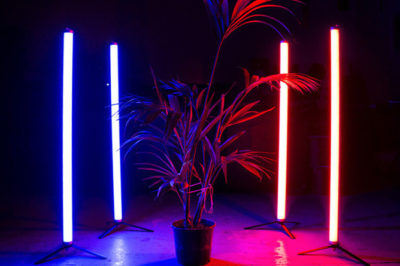 One new trend we're in love with is tube lighting – like our Astera Titan Tubes. You can adorn your bar, create a geometric design above the dance floor, hang them from the ceiling, or create one killer entranceway. Your guests' first impressions will be lasting, and it's something your guests will talk about long after the wedding is over!
Pro Tip: Save on décor needs and add flexibility by using projected patterns and colors to decorate the walls, ceilings, and dance floor! Click to check out all our lighting options.
Maximum Décor
For 2020, it's all about maximalism. One gorgeous way to do this is with florals and greenery – whether with breathtaking flowers adorning your ceremony chuppah or by turning your reception into a garden with an abundance of colorful arrangements. Try a flower chandelier or "cloud," overflowing centerpieces, and beautiful arches.
Make a wall display with custom gobo projections, hoops or geometrics, wood, flower wall, or linens. If there's one day where it's ok to be a little dramatic and over-the-top, it's your wedding day!
Pro Tip: Go big and majorly memorable by adding an enhancement like Sparkular, a confetti drop, or more – check them all out here!
Video Memories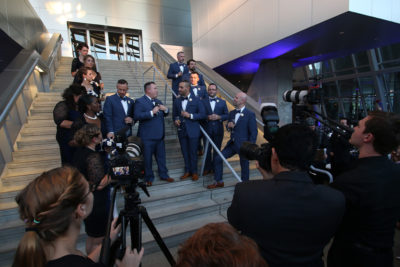 Still photos are so last decade. From GIFs to Boomerang to IGTV, 2010-2019 saw an undeniable progression and obsession with video. Wedding videography isn't meant to replace still photography, but to supplement it! But this isn't your mama's wedding video. You can do a 60-minute film, perfect for sitting down with your spouse each year and watching on your anniversary. Or, opt for a 30-minute video that shows your favorite parts of the day. Finally, there's the oh-so-popular highlight reel, which is 5-10 minutes and edits together the "highlights" of the day. This can include getting ready, your vows, parts of the toasts, your first dance, and shots of your guests. Rock The House Entertainment has videography options that fit your vision!
Upgraded Photo Booths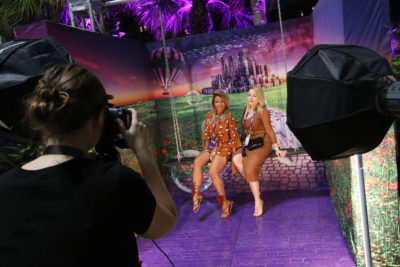 Photo booths have always been romantic – they're classic first date activities. It only makes sense that they should be part of the most romantic day of your life – your wedding day! While close-curtain photo booth kiosks are fun in their own way, an open-air photo booth can be even more fun! You can create a custom backdrop or use a green screen; your guests can write a message or share them on social media; they can leave well-wishes in the form of a video, pose in large groups, and use fun props.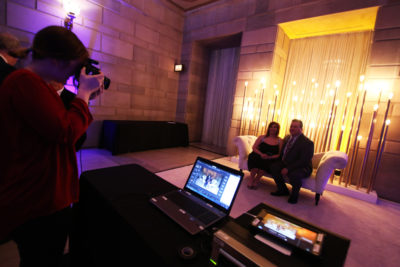 Aside from our Classic Booth, Mirror Booth, and Photo Kiosk, we also offer a Custom Photo Station and Photo Magic. They're the PERFECT upgrades to your wedding. Not only will your guests have a blast posing for them, but you'll love looking through the photos of your guests making memories.
Pro Tip: Get inspired! Hop over to our Photo Galleries to check out what other clients have done for their custom photo designs!
Sustainable Weddings
Cheers to Mother Earth! One of our favorite trends in 2020 is that of a green wedding. We're not talking the color – we mean a sustainable, environmentally friendly wedding. We can all do our part to save the Earth, and weddings can be extremely wasteful. There are ways to combat this, and 2020 couples are doing their best to minimize their footprint. Ask for donations to charity rather than gifts; let your bridesmaids wear dresses they already own; rent decor rather than buy; choose a local venue to limit your guests' travel; choose local foods and flowers; and use paperless signage like wood, slate, chalkboard, acrylic, or glass.
Pro Tip: After your wedding, consider reselling items at an event like the Recycled Wedding Boutique, hosted by our friends over at Beloved Ohio!
It's impossible to include each of these trends in your wedding, but including one will ensure that your guests are wowed, impressed, and recall your wedding as one of the best parties they've attended! The many options available at Rock The House Entertainment can help bring one of these trends to life and make your wedding day truly spectacular!
https://www.rthgroup.com/wp-content/uploads/2018/02/RTH-WEB-LOGO-SIZE-03-400x66.png
0
0
mhadder4561
https://www.rthgroup.com/wp-content/uploads/2018/02/RTH-WEB-LOGO-SIZE-03-400x66.png
mhadder4561
2020-02-04 17:20:55
2020-02-04 17:46:45
2020 Wedding Trends