Cleveland has been deemed as "The Birthplace of Rock N' Roll" ever since Alan Freed first coined the phrase in the 1950s. While that may have already been 60 years ago, the spirit of the music still lives on just as it always has in our great city. Young Sam Heller couldn't help but feel the same way, and decided the only true place he wanted his bar mitzvah was not only in the rock and roll city, but at the epicenter of it; The Rock & Roll Hall of Fame. Take a look at how we at Rock The House were able to ROCK Sam's Simcha, providing him and his guests with an evening full of incredible fun and great memories!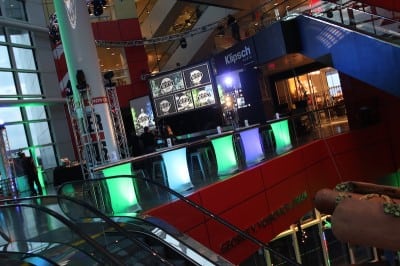 It was the direction of the Joe Mineo Creative team that really brought the night to life, transforming the Rock Hall into the party of the year! Sam's celebration started with one of our rockstar DJs and one of our signature Ultimate Video Dance Party setups, with wireless LED uplights, strobe lighting, 70″ monitors, and truss structures transforming the dance floor into an ocean of light and sound. Guests were kept entertained both on and off the dance floor with a series of multiplayer, interactive games; Including RTH favorites such as Rockshots, RTH Game Show Mania, and even giant versions of classic games such as Jenga, Connect 4, Pick-Up Sticks, and Scrabble. Another hit attraction was the new RTH Coinless Claw Machine, which allowed guests to test their skills and attempt to win themselves an additional party favor! Rock The House also provided a custom photo opportunity, bringing in one of our professional photographers to take beautiful portraits of the guests. As the night continued on, guests enjoyed musical entertainment courtesy of The Pella Singers, and some fine cuisine catered by the 5-star staff from Executive Caterers.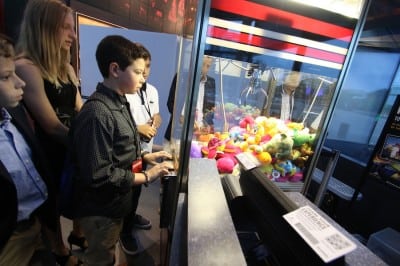 Throwing parties for a living may seem redundant after a while, but never for us at Rock The House! It brings us quite a bit of joy to be continually called upon to provide great celebrations for Sam's family. The 2nd in his family to have their Simcha ROCKED, we always enjoy the challenge of thinking up fresh and exciting party options to create the best night possible for the family. We also love working at a premier Cleveland venue such as the Rock Hall, and working with their fantastic event staff! Last but not least, a big thanks goes to Event Source, Aable Rents, and Be Seated for helping with select item rentals, and Marc Golub Photography for taking some incredible pictures of the night!
From Simchas to weddings, there's not an event out there that our team can't ROCK! Contact our team of event professionals today to see what we can make possible for your next celebration!
https://www.rthgroup.com/wp-content/uploads/2018/02/RTH-WEB-LOGO-SIZE-03-400x66.png
0
0
mhadder4561
https://www.rthgroup.com/wp-content/uploads/2018/02/RTH-WEB-LOGO-SIZE-03-400x66.png
mhadder4561
2016-11-01 08:25:29
2019-07-22 13:36:35
RTH Signature Event: Sam's ROCKING Bar Mitzvah