Making People Smile Matters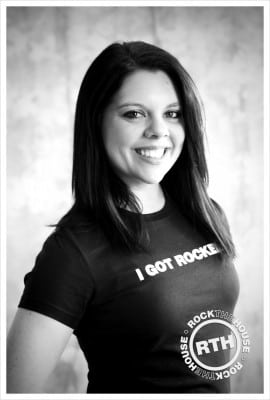 Samantha Fox brightens up every room which is a big part of her job and why she is the Team Member of the Month for December. We're seeing a pattern here with what it takes to earn this achievement. The pattern is round robins, which Sam most certainly is. Here is a list of some of the positions Sam has trained and excelled at: dancer, dj, photo technician, shop technician, and an assistant to anyone who needs one. Another area where Sam sets herself apart is her ability to train newer staff members. She really understands both the Rock The House work ethic and our company culture enough to instill it on others.
One of the reasons that Sam really made her mark in December is a new job title she can brag about: Manager for Legacy Village's Polar Point Program. This is where Rock The House provides free photos with Santa for families in the community during the month of December. Her proven ability to work directly with clients while managing a team gives her the unique ability to run this operation. Another sign that Sam has proven herself as a star is through client requests. Generally, our MC's are usually the most requested category of team member but Sam has often requested as much as any of our MC's. This is due to her ability to connect with guests and make an impact on events in a way that looks effortless. It looks effortless because she is actually having fun on the job which attracts others. Her smile multiples others.
Creative & Talent Director, Ryan Konikoff had this to say about Sam:
"Sam is proof that leadership is not just a title. No matter what position she has in an event, she leads through example. She also understands that no one person earns the win or loss for an event –  it is the team. Her commitment to the team is evident when she is willing to give up her personal time in order to fill in for a team member that is unable to make it to an event. She puts the team first."
Sam's commitment to the team and it's members is best said in her own words:
"I started out as a dancer and have grown into so many other positions.I plan on continuing my training at every chance available as well. I genuinely love it too! I can honestly say there is not a single person at RTH I don't have some love for. I always want to give everyone hugs, as silly as that is. The employees at RTH are definitely a special family to me."
Sam's favorite Rock The House moment shows how much the team thinks for her:
"My favorite memory created by my coworkers of RTH is how an impromptu, surprise dance party happened on my birthday. I worked on my 25th birthday and when I got back to the office, the majority of the staff that also worked that evening was waiting for me with enthusiasm and baked goods. We were having so much fun it turned into a perfect little birthday bash!"
Congratulations, Sam! You're a big part of what makes this team so special.
https://www.rthgroup.com/wp-content/uploads/2018/02/RTH-WEB-LOGO-SIZE-03-400x66.png
0
0
mhadder4561
https://www.rthgroup.com/wp-content/uploads/2018/02/RTH-WEB-LOGO-SIZE-03-400x66.png
mhadder4561
2012-12-14 09:24:50
2012-12-14 12:02:12
December Team Member of the Month: Samantha Fox