June's ROCKstar of the Month is Anthony Jamison! Anthony gives his talents to the Rock The House team in our entertainment division as both a dancer and a DJ. He has worked for the RTH team for about 4 years and always brings energy & passion to his work!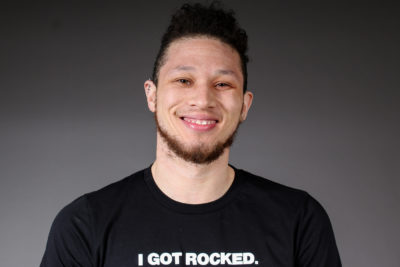 "I feel like the biggest thing I've gained from RTH is confidence. I still have my moments, but my level of confidence is way up. With DJing and dancing, I've learned to do it more for the love of it instead of just to impress people. Learning from my teammates at Rock The House has really helped me become more confident as a performer." – Anthony Jamison, ROCKstar of the Month
Anthony says his favorite thing about being on the RTH team is being able to work with and learn from so many different people with so many unique backgrounds. Every time he works, he learns new dance moves from other dancers. He also learns from DJ Flightz and Nick while they're DJing by watching them and how they read the crowd. He also loves the friendships and bonds he's gained at Rock The House.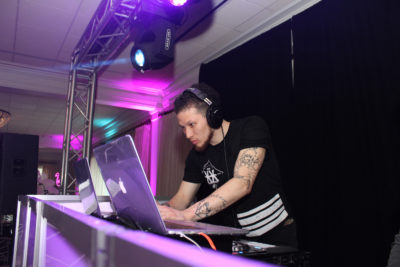 A Few Fun Facts About Anthony Jamison:
Favorite guilty pleasure song? "Wannabe" by the Spice Girls
Favorite song and/or artist? "Shape of You" by Ed Sheeran (Jack Wins Remix)
Favorite movie? Spider-Man Into the Spider-verse
Favorite TV show? Bob's Burgers
Favorite pre-event snack? Fruit snacks – I can eat 5 bags before a show.
Favorite post-event snack? Oatmeal cream pies
Favorite animated character? Kakashi from Naruto
Biggest fear? Water
Where's the most interesting place you've ever traveled? Florence, Italy
How do you take your coffee? I don't actually drink coffee; I'm a big apple and orange juice drinker. I'll always have a couple of those in my bag for shows.
If you could have a superpower, what would it be and why? Teleportation – I always have something going on last minute that causes me to be slightly on time or slightly late to everything. So, if I could just pop up and be on time that would be better for everyone.
"Anthony has always been an extremely talented individual and the growth he has shown over the last few years is a testament to the hard work and dedication he's put into his craft to grow not only professionally but personally as well. At events, Anthony simply knows how to entertain. He is always loved by our clients and is one of our most requested dancers. I'm truly proud to have Anthony on our team and always look forward to having him on the events I work. His abilities and skills are a true asset to the overall quality of the entertainment aspect of our events." – Nick Duvé, General Manager, Entertainment Division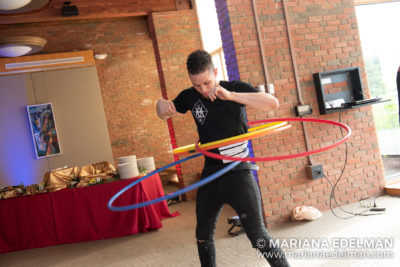 His love for dance is what attracted him to the live events industry. Anthony said he once did a performance for a Latin community group of kids and the next year they were asked back to perform. When he came back, some of the children came up to him and told him that after they saw him, they were inspired. Many said they realized that they had to change some of their behaviors in order to work on their talents and pursue a dream of dance too. Anthony said that's when he decided to pursue dance as a career and loves that this industry gives him a platform to reach out to people in a positive way.
When he's not at RTH, Anthony enjoys walking his dog Tequila, watching anime, and playing competitive video games. In his own words, he says he's generally a bit of a homebody.
Congratulations to Anthony on being June's ROCKstar of the Month! Interested in working with ROCKstars like Anthony to produce your next event? Contact our team of event professionals today to get started! Photos courtesy of the Rock The House Photo Archive.
https://www.rthgroup.com/wp-content/uploads/2018/02/RTH-WEB-LOGO-SIZE-03-400x66.png
0
0
mhadder4561
https://www.rthgroup.com/wp-content/uploads/2018/02/RTH-WEB-LOGO-SIZE-03-400x66.png
mhadder4561
2019-07-02 10:28:43
2020-02-12 11:32:49
ROCKstar of the Month of June: Anthony Jamison