New year, new ROCKstar! This month's honoree is Evan Guffin, one of our Lead Technicians. Evan has been with Rock The House for over six years. Since joining the team, he has progressed from working as an audio technician to leading a team. He is willing to lend a hand to anyone in need and strives to make everything around him better.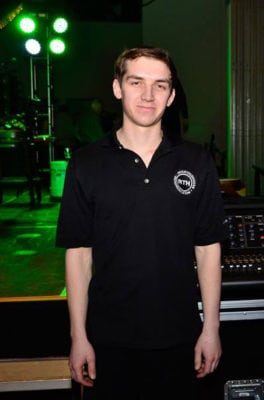 Evan grew up around performance and performed as a kid, but eventually realized that he liked the behind-the-scenes factor more than being on the stage. His interest in the technical side of things even led him to study event production.
"Evan has excelled in and helped develop and mold our audio department in a positive way. He continues to make improvements on the look, feel, and sound of all of his events. His knowledge and attention to detail has given him the opportunity to project manage several Signature Events successfully." – Ryan Durfee, Production Manager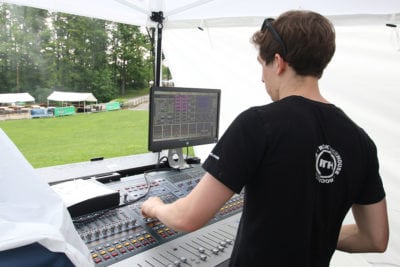 While Evan works in many areas and on many types of events, he shared that his favorite event to work on was the Cleveland Metroparks Centennial Celebration. "The Metroparks is a great organization and client of Rock The House," said Guffin. "Their event was a great display of many of Rock The House's audiovisual aspects."
A Few Fun Facts About Evan Guffin:
Favorite guilty pleasure song? "Wannabe" by the Spice Girls
Favorite movie? Blues Brothers
Favorite TV show? The Office
Favorite song/artist? Foo Fighters
Favorite pre-event snack? Banana
Favorite post-event snack? Chips and salsa
If you could have a superpower, what would it be? I'd like to fly, I hate sitting in traffic.
What's something not many people know about you? I've been drinking coffee since I was a little kid.
On that note, how do you take your coffee? Black.
"One of my favorite things about being on the RTH team is seeing the concept that a client has imagined for an event come together and then seeing their reaction to it when it is done." – Evan Guffin, ROCKstar of the Month
When not at work, Evan can be found working out at the gym, enjoying craft beers, and spending time with his friends and family.
"Evan is someone who we know can handle whatever we throw at him. He personifies RTH culture by always being willing to step up and help out. He does what needs to be done and is more than willing to help anyone that asks!" – Tricia Adams, Production Assistant
Congratulations to Evan on being January's ROCKstar of the Month! Interested in working with rockstars like Evan to produce your next event? Contact our team of event professionals today to get started! Photos courtesy of the Rock The House Photo Archive.
https://www.rthgroup.com/wp-content/uploads/2018/02/RTH-WEB-LOGO-SIZE-03-400x66.png
0
0
mhadder4561
https://www.rthgroup.com/wp-content/uploads/2018/02/RTH-WEB-LOGO-SIZE-03-400x66.png
mhadder4561
2018-01-31 10:33:30
2018-02-28 08:40:19
ROCKstar of the Month of January: Evan Guffin