This October we're excited to showcase Bryan Wolbert as our ROCKstar of the month! Bryan has been with Rock the House for almost three years now working as an audio technician on our production team.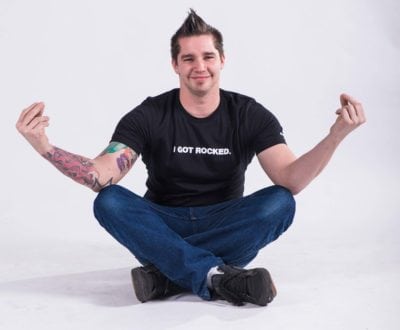 Bryan has grown alongside Rock the House over the past few years and has truly shined as we have continued to add more and more hotel and corporate events. He is regularly found supporting Cleveland's many event centers and ballrooms, meeting and surpassing client A/V needs and expectations.
A Few Fun Facts About Bryan Wolbert:
Favorite Movie? Blade Runner
Most Relatable Cartoon Character? "Bender" from Futurama
Guilty Pleasure Song? Careless Whisper
Favorite Pre-Event Snack? C'mon is that even a question…Chipotle!
Favorite Thing About Being on the RTH Team? The bond with coworkers and how we can always joke with each other. We have a great team!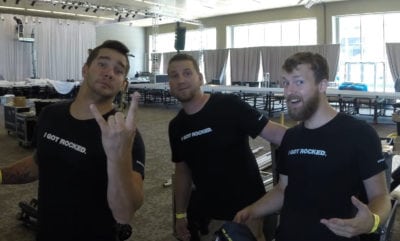 "It's nice to be recognized for the time and effort you put into your job. It's not ultimately needed but nice to be noticed for your hard work." – Bryan Wolbert, ROCKstar of the Month
Bryan's family is what motivates him to be his best and when he isn't at work or Chipotle, he can be found spending time with his two sons, Clay and Evan. Bryan is a cherished and respected member of the Rock the House family and our events would not be the same if it wasn't for all his incredible hard work and dedication!
"Bryan has been with the team for roughly two and a half years and quickly moved to one of our top Audio Engineers. He is a hard worker with a 'get it done' mentality that pushes teams to make it home before Chipotle closes." – Ben Allison, Director of Human Development
Congratulations again to Bryan on being October's ROCKstar of the Month! Interested in working with Bryan at your next event? Contact our team of event professionals today to get started! Photos courtesy of the Rock The House Photo Archive.
https://www.rthgroup.com/wp-content/uploads/2018/02/RTH-WEB-LOGO-SIZE-03-400x66.png
0
0
mhadder4561
https://www.rthgroup.com/wp-content/uploads/2018/02/RTH-WEB-LOGO-SIZE-03-400x66.png
mhadder4561
2017-10-09 10:41:40
2017-10-09 10:41:40
ROCKstar of the Month: Bryan Wolbert