November's ROCKstar of the Month is….Jaime Kravitz! When Jaime started at Rock The House eight months ago, she immediately fit right into our ROCKstar family. Whenever Jaime is behind the microphone, whether it's a mitzvah, wedding, or corporate event, we know the event is in good hands! We are so lucky to have her as one of our leading entertainers!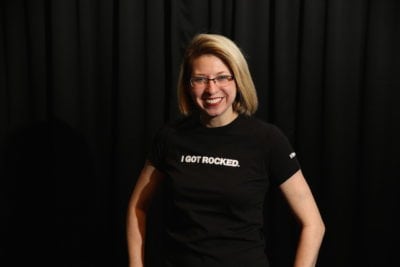 In her time at RTH, Jaime has grown quickly and tremendously. No matter the event, she takes great care in making her clients and events her top priority. Before heading to an event, she always makes sure she has a clear understanding of all the necessary details in order to execute the event perfectly.
While Jaime works all sorts of events for Rock The House, she shared that her favorite event to date was emceeing Michael and Adam's wedding in September! She loved that the dance floor was so packed, there was barely any room for her! 
A Few Fun Facts About Jaime Kravitz:
Most Relatable Cartoon Character? "Linda Belcher" from Bob's Burgers — sing-talking is Jaime's favorite!
Guilty Pleasure Music Genre: Country
Favorite Post-Event Snack? Pretty much anything! Jaime says she "eats like there's no tomorrow" after events
First Thing She'd Buy After Winning The Lottery? An "Around-The-World" plane ticket
Favorite Thing About Being on the RTH Team? The RTH crew is truly a TEAM! I feel so lucky to work with such talented, fun, like-minded, hard-working individuals who are dedicated to making every single event ROCK!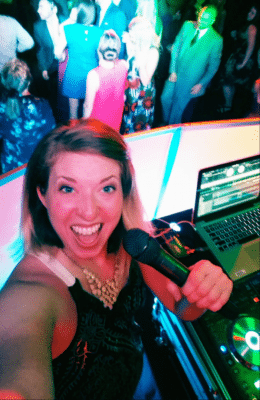 "Nothing brings me more joy than to make people happy. At the end of the day, it's a dream job bringing smiles and laughter to our clients and their guests." – Jaime Kravitz, ROCKstar of the Month
When Jaime's not working she can be found hanging out with her cat, traveling, spending quality time with friends, trying new things, or teaching herself the ukulele! Jaime is a natural entertainer at heart and we are so glad to have her on the RTH team. Our events would not be the same without her!
"Jaime is a ball of energy and has quickly become part of the RTH family.  While she has only been with us a short while, her previous experience and overall attitude towards events truly incapsulates the ideal image of a Rock The House entertainer." – Ben Allison, Director of Human Development
Congratulations again to Jaime on being November's ROCKstar of the Month! Interested in working with Jaime at your next event? Contact our team of event professionals today to get started! Photos courtesy of the Rock The House Photo Archive.
https://www.rthgroup.com/wp-content/uploads/2018/02/RTH-WEB-LOGO-SIZE-03-400x66.png
0
0
mhadder4561
https://www.rthgroup.com/wp-content/uploads/2018/02/RTH-WEB-LOGO-SIZE-03-400x66.png
mhadder4561
2017-11-28 15:24:14
2017-11-30 08:32:26
ROCKstar of the Month of November: Jaime Kravitz