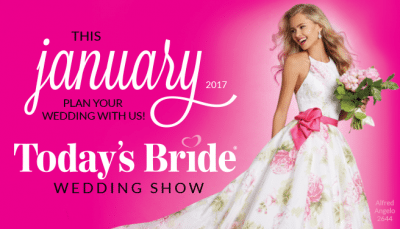 Every January, Today's Bride gathers up some of the biggest vendors in Northeast Ohio for their annual I-X Center and John S. Knight Center wedding shows! Being one of the largest in the state, this show is known to attract thousands of engaged couples, so our team took our booth to the imagination's limit, showcasing exactly what RTH Weddings can make possible for their special day!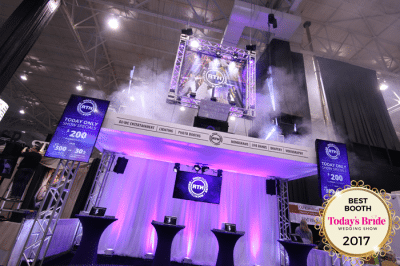 As you can see from the picture above, our 2017 bridal show booth was bigger and better than any booth we've ever done at any previous show! Recreating the double-decker design we executed last year, our team spruced up our setup by doubling the number of display monitors, adding fog to accent some fun lighting elements, and literally topping it all off with our own DJ Mattitude that mixed live for couples from the top of the booth! The award-winning booth also featured a massive banner that displayed the signature RTH logo, as well as some of our favorite wedding photos, which was all suspended from the ceiling of the facility for all of the show's guests to see! While all this was taking place high in the air, another team of wedding professionals could be found below helping couples and answering any questions they may have had about their upcoming nuptials.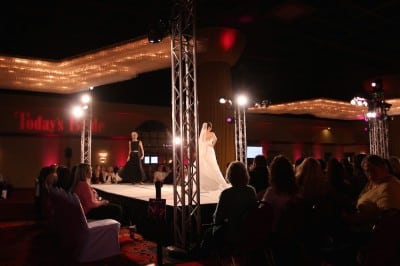 Rock The House (RTHAV) is also proud to partner with Today's Bride from a production standpoint, providing audio, lighting, and even staging for their fashion shows! With a total of six different shows happening in only two short days, our team worked diligently to ensure that everything was handled for each show throughout the weekend. Rock The House MC Nick Duve hosted all of the fashions shows, welcoming guests with opening remarks and announcing the various models' outfit styles and show sponsors (American Commodore Tuxedo and Miller's Party Rental), while DJ Flightz kept the high energy music pumping through the speakers the entire time. Guests were awed by a stunning light display, which proved to be an exceptional accent to the luxurious dresses and tuxedos the models ROCKED as they headed down the runway.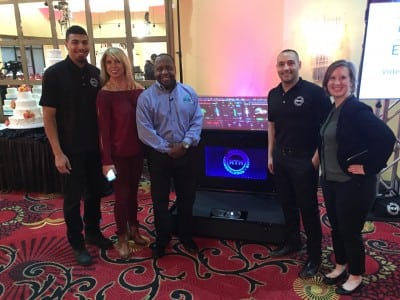 Our team also spent some time with Kenny Crumpton and FOX 8 News talking about some of the cool new products we had for couples at the show! The first item was also featured on top of the RTH Weddings show booth; The new Touch Screen DJ System, which allows couples to actually SEE their DJ mix live before their eyes, and even encourages them to get into the mix and play a few of their own songs! The second spotlight item this year was our Mirror Photo Booth, which is an interactive, state-of-the-art photo station that captures guests' memories as they stand in the reflection of a full-size mirror! This novelty also prompts users to doodle and sign their masterpiece once it's taken, and allows the photos to be printed live on-site, sent digitally via SMS or email, or directly posted to a social media account on Facebook, Twitter, Instagram, and other popular platforms.
Check out a full recap of the Today's Bride I-X and John S. Knight Center shows from last month above, and see exactly what the RTH team is capable of accomplishing. From weddings to fashion shows, and every event in between, Rock The House can do it all! To learn more about how you can work with our team of event professionals, visit our contact page by clicking here!
https://www.rthgroup.com/wp-content/uploads/2018/02/RTH-WEB-LOGO-SIZE-03-400x66.png
0
0
mhadder4561
https://www.rthgroup.com/wp-content/uploads/2018/02/RTH-WEB-LOGO-SIZE-03-400x66.png
mhadder4561
2017-02-01 13:51:55
2017-02-08 09:31:37
Today's Bride 2017 Wedding Show Recap – I-X Center