After a summer full of hard work, we can't think of a more deserving person to call our September ROCKstar of the month than our in-house graphic designer, John Vlach. In just under two years since starting at Rock The House, John has already advanced from an intern during his schooling, to full-time in the office, working alongside the marketing team.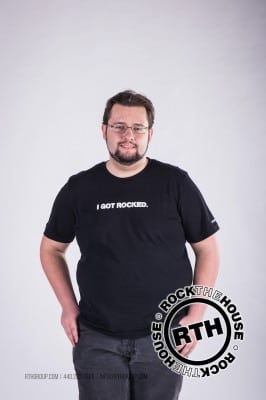 John says his favorite part about working for Rock The House is the privilege of expressing his own creativity, and that he's not constantly being watched or critiqued while he works. He prefers the flexibility and organization structure of Rock The House, so there's never any overwhelming pressure and deadlines are easier to meet. "Creativity is not something that can be rushed… The final product will never be as good if the process isn't given enough time or if there's too much pressure", John says.
A Few Fun Facts About John Vlach:
Guilty pleasure song? Rachel Platten – "Fight Song"
Pre-event snack? Chicken Nuggets
Post event snack? … more Chicken Nuggets! "They're easy to eat when I'm driving home!"
What is your biggest fear? Spiders or Bugs of any kind.
What's your favorite movie? Caddyshack
What's your favorite song/artist? Paramore
What pro wrestler fits you best? CM Punk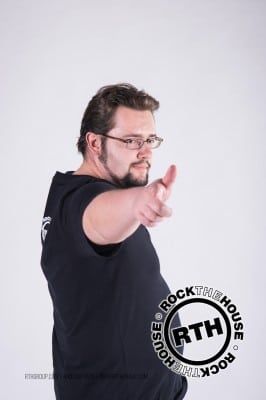 Handling many of our designs and video editing tasks, John also captures videos at many of our events! While he may shoot videos for many different shows, big productions like last year's Shaker Prom or S.W.A.P. 2016 (An EDM, rave-style event featuring DJ E-V) seem to be his favorite.
"John is a model employee. His passion and love for his craft has elevated the quality of our video and graphic designs. I am proud to have John as part of my marketing team and I really looking forward to seeing him expand his role at Rock The House."  – Nick Duve, Marketing Director
You can check out some of John's most recent work for us on our YouTube channel. Keep up the great work John, and thanks for everything that you do!
https://www.rthgroup.com/wp-content/uploads/2018/02/RTH-WEB-LOGO-SIZE-03-400x66.png
0
0
mhadder4561
https://www.rthgroup.com/wp-content/uploads/2018/02/RTH-WEB-LOGO-SIZE-03-400x66.png
mhadder4561
2016-09-08 15:28:43
2016-09-08 15:28:43
ROCKstar of the Month for September – John Vlach