DJ & A Lot More
One of the most uniquely trained members of Rock The House is October's Team Member of the Month – Alex Kay. Chiefly known as a DJ and yet he's probably taken on every different entertainment position possible with RTH. His standing as a DJ is so well known because he's furthered his career and training beyond the needs of most event disc jockeys. As a club DJ, Alex has his thumb on the pulse of the latest music almost before anyone else at the company. His suggestions for songs on playlists have become invaluable. He is the only DJ at RTH that uses Technics at signature events that require live mixing which in and of itself is really something.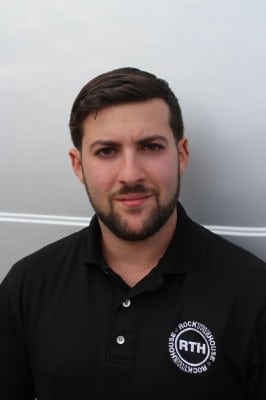 Alex's career has flourished for the same reason RTH has. He's never satisfied with where he is at and continues to learn new skills that have taken him all over the country. As a lighting designer, he works with a broad range of event types at Rock The House including weddings, Bar and Bat Mitzvahs, Corporate Events, and School functions. He's applied his craft and love of live events as the lighting designer on multiple national tours with national recording artist Machine Gun Kelly. Alex picked up invaluable experience from those tours which allowed us to pick up MGK as a client.
Alex lists one experience with his last tour as one of his favorite with Rock The House.
"I think one of my favorite RTH memories is either when Steve and Ryan (RTH CFO & COO) drove to Detroit before a MGK show to deliver a Platinum Spot lamp. After the show we had a chance to go out for dinner."
What Rock The House means to Alex is evident in his words:
"What I enjoy most about my contribution to our clients events is creating an atmosphere thats ideal for them. Whether its draping an entire room, building a giant stage and filling it with an awesome lighting rig, or just setting up something basic for a small wedding; as long as our clients are smiling thats all that matters. Being part of RTH has meant a lot to me. I've learned a lot of things that have undoubtedly allowed me to further my career to lead larger events and go out on tour, and also made some good friends through working at RTH."
Alex's passion for pushing to get better and better is something that the whole company benefits being around. He looks at every part of our operation and is always thinking about ways we can do more for our clients. We're lucky to have someone who lives and breathes entertainment and we're all made better by his contributions.
https://www.rthgroup.com/wp-content/uploads/2018/02/RTH-WEB-LOGO-SIZE-03-400x66.png
0
0
mhadder4561
https://www.rthgroup.com/wp-content/uploads/2018/02/RTH-WEB-LOGO-SIZE-03-400x66.png
mhadder4561
2013-10-07 14:23:37
2013-10-07 14:25:20
Team Member of the Month: Alex Kay