October is one of our busiest months of the year, so it's only fitting that this month's ROCKstar is one of our hardest working MCs, Kevin New. Finishing up his 14th season working with us, Kevin has been performing as an MC since he was 18 years old.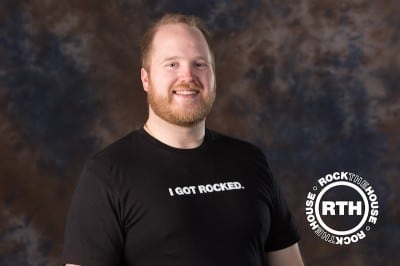 Although Kevin has been performing for RTH for 13 years, his experience performing stretches back to his youth. Starting his entertainment career at 7 years old, Kevin worked at Six Flags Amusement Park as a boy, and even spent some time touring Italy for vocal performance! In addition to these experiences, Kevin would later take his talents to Kent State University, pursuing Vocal Performance in the form of a college degree.
A Few Fun Facts About Kevin New:
Theme Song? "Piano Man" by Billy Joel (But his favorite song would be "You Can Call Me Al" by Paul Simon)
If You Could Be A Superhero, Who Would It Be? Superman, because of his ability to fly!
Post Event Snack? I always stop at the Circle K near the RTH office for an energy drink and some Cool Ranch Doritos.
Who Do You Look Up To As An RTH MC? Is There Any Advice You Have For Future Entertainers? I try to take away nuggets of wisdom from each of our entertainers. Each MC is unique and seasoned, and I enjoy learning from each of them! That's something I always tell our new entertainers; Don't be afraid to learn by trying something new.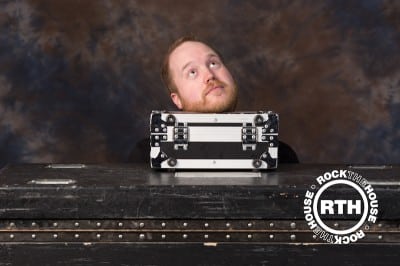 Kevin was born in El Paso, Texas, as the 10th and final child of his family. With the age difference between him and his siblings spanning up to 25 years, time only continues to make the New family grow. As of now, Kevin has 34 nephews (not counting 12 great niece and nephews), and three children of his own with his wife of 6 years, Kellie.
"Kevin New is the consummate professional. Any client who is fortunate to have Kevin as their MC is in for a wonderful night. Kevin not only is a talented entertainer but he embraces concierge level customer service. Rock The House has been fortunate to have such a loyal and talented entertainer on the entertainment team for the last 13 years. Kevin has performed on over 400 events, and we look forward to watching that number grow as time goes on." -Travis Rose, Talent Director
You can find Kevin any given weekday working his full-time job as Branch Manager for Dollar Bank in North Olmsted. A very hardworking individual, we appreciate all the work that Kevin does for our company and our customers! Interested in working with Kevin for your next event? Contact our team of event professionals today to get started!
https://www.rthgroup.com/wp-content/uploads/2018/02/RTH-WEB-LOGO-SIZE-03-400x66.png
0
0
mhadder4561
https://www.rthgroup.com/wp-content/uploads/2018/02/RTH-WEB-LOGO-SIZE-03-400x66.png
mhadder4561
2016-10-19 10:02:07
2016-10-20 15:15:44
ROCKstar of The Month of October: Kevin New