Our second ROCKstar of the Month for 2017 is far from a rookie. Shawn Smutak has been a part of the Rock The House family since 2003, and is one of the only RTH team members to have completed over 1,000 shows during his time with us.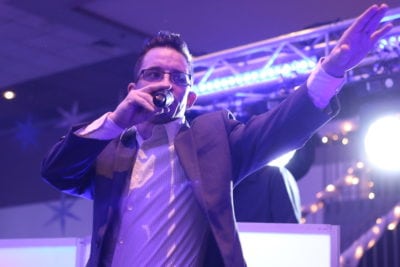 Since originally starting out at the age of 13 as a dancer, Shawn has truly become a "jack of all trades" here at Rock The House. From acting as an MC and Lead Entertainer on dozens of shows each year, to working in the warehouse as a Shop Hand during the week, Shawn's diversity and dedication make him a strong asset to nearly any event-related situation. Even now in 2017, Shawn continues to excel and has already received 5 "Excellent" ratings from different clients he's worked with… Not bad, considering we're only about 8 weeks into the new year!
A Few Fun Facts About Shawn Smutak:
Favorite Group or Artist? Blink 182 (But only with Tom DeLonge as a member)
Favorite RTH Event? Acting as the official MC for the Edgewater Live Concert Series (For the past 3 years)
Pre-Event Snack? Shawn prefers not to eat before events, claiming he "performs better hungry".
Guilty Pleasure Song? Anything by the Backstreet Boys, Hanson, O-Town, … The list goes on.
Most Relatable Cartoon Character? "Otto" from Rocket Power
Other Hobbies? When Shawn's not performing at Rock The House, he enjoys making home improvements, taking his dogs to the park, and most recently, planning his upcoming wedding with his fiance Lianne (a fellow RTH ROCKstar).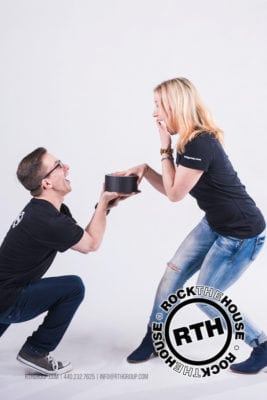 "Shawn is a long time member of our entertainment team at RTH, as well as being one of our top requested Emcees. He continues to improve his craft and deliver memorable nights for clients, week in and week out." – Ben Allison, Talent Director
After nearly a decade and a half of service at Rock The House, there aren't too many events that Shawn hasn't successfully ROCKED. Whether it's a bar mitzvah, wedding, school dance, or corporate event, Shawn has proved that he can excel and lead a team in nearly any kind of environment. In fact, he is even notorious for "running into" repeat clients as the years go on.
"Somewhere along the way in the 14 years I've been here doing this, I've gone full circle. I started doing some kids' simchas… Then I've moved on to ROCK their school dances, and now I'm doing these same kids' weddings. It's crazy to see how Rock The House, myself, and even events in general, can have that sort of influence on somebody's life." – Shawn Smutak
We would like to send a big thanks to Shawn for all the hard work he has done for our team over the years, and we look forward to continuing to work with him for many more to come! Interested in working with Shawn Smutak for your next event? Contact our team of event professionals today to get started! Photos courtesy of the Rock The House Photo Archive.
https://www.rthgroup.com/wp-content/uploads/2018/02/RTH-WEB-LOGO-SIZE-03-400x66.png
0
0
mhadder4561
https://www.rthgroup.com/wp-content/uploads/2018/02/RTH-WEB-LOGO-SIZE-03-400x66.png
mhadder4561
2017-02-21 09:54:18
2017-02-21 09:57:57
ROCKstar of the Month of February: Shawn Smutak