Position Available
at Rock The House Oakwood Village, Ohio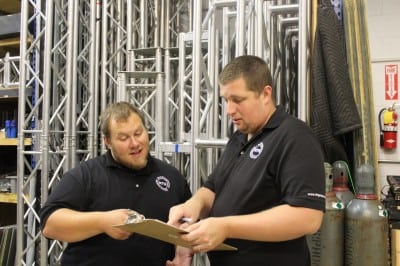 A LITTLE BIT ABOUT US:
Founded in 1999, Rock The House is a full-service production and entertainment company that produces more than 1,000 corporate, non-profit, social, and educational events a year. Product and service offerings include audio/visual production, entertainment, multimedia, photo novelties, and more.
WHAT WE ARE LOOKING FOR:
We are looking for an excited and organized candidate who would love to join an expanding special events' firm. This position would oversee the day-to-day operation in the warehouse while keeping an open line of communication to and from the production office and sales team.
WHAT YOU WILL DO:
Manage cross-rental pick-ups and returns
Manage and prioritize warehouse projects
Assist in developing and implementing systems to improve efficiency in the warehouse
Lead the team during prep and de-prep
Responsible for vehicle maintenance
Assist in repairs and maintenance
Expendable counts and orders
Assist with unreturned item follow-up by conducting physical counts
Assist with scheduling of staff and warehouse equipment
Contribute to the development and maintenance of standards, policies, and procedures
Maintains warehouse staff job results by coaching, counseling, and disciplining employees
SKILLS AND KNOWLEDGE YOU SHOULD POSSESS:
Experience in the event industry is NOT required, but a plus!
Working knowledge of Microsoft Office, especially Word and Excel
Demonstrate high energy, strong work ethic, and a sense of urgency
Proactive, self-starting, tenacious work habits and the ability to work independently
Excellent communication, listening, and customer service skills
Ability to delegate, follow up, and relate to staff members of varying skill sets
Ability to multitask, meet cascading deadlines, and be organized
COMPENSATION PACKAGE & BENEFITS PACKAGE:
Compensation includes competitive base salary, and other great incentives! Benefits may include medical insurance, dental insurance, short-term / long-term disability, 401K, company issued computer & cell phone.
WHAT'S NEXT?
Rock The House takes pride in its core values, customer service, and family-oriented atmosphere, and we'd love for you to be a part of it! If you or someone you know would be a good fit, apply today!