ROCK YOUR PROM 2012
For the latest in Rock Your Prom Information. Check back for information on the planning and execution of Chardon High School's Mega Prom from the leading School Dance Entertainers, Rock The House Entertainment. Read the OFFICIAL PRESS RELEASE Here.
May 6th, 2012
Well, we can honestly say there has never been a prom like last night! Watch this recap video to get a taste of just how spectacular Rock Your Prom's Winner, Chardon High School Prom was:

May 5, 2012
Everything went perfect for Rock Your Prom winner's Chardon Prom. We couldn't have anticipated just how epic this event was.
We want to congratulate everyone who contributed. Thanks again to sponsor American Commodore as well as co-producer, KISS 96.5 FM Cleveland. Special thanks to DJ Pana, DJ E-V, and Cobra Starship.
Here's a few photos to create a timeline of the event:
May 4, 2012
Tomorrow is the day!
Thanks to everyone who contributed to the most high profile and exciting prom that anyone will ever seen!
April 28, 2012
With one week to go, Rock Your Prom winners Chardon High School are gearing up for what will be the most spectacular prom in the region's history. Ticket sales are at a school all-time high with around 700 planning to attend the event hosted at the Rock and Roll Hall of Fame.
Check out the Sun-Herald article on the last week of planning by event producers Rock The House.
ABC Cleveland Channel 5 Story on the addition of Cobra Starship and The Rock Hall Venue.
WTAM Story on the continuing evolution of the Chardon High School Prom
April 9th, 2012
Check out the official Rock Your Prom Press Release featuring Cobra Starship at The Rock and Roll Hall of Fame.
March 30th, 2012
BIG news announced today on Kasper's 96.5 KISS FM Cleveland show today.
Both the venue and a national recording artist were announced! Listen here to the live announcement as Chardon students hear it for the first time.
Rock Your Prom Chardon Venue with Rock The House on KISS FM by igotrocked
The venue: The Rock and Roll Hall of Fame + Museum
The national recording artist: Cobra Starship
March 16th, 2012
Facebook avatar for Chardon voters is available: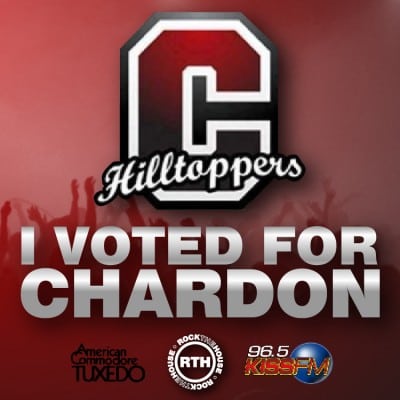 Rock Your Prom has mentioned on the local section of CNBC.
March 15th, 2012
The Rock The House design team and representatives from 96.5 KISS FM met with the Chardon Prom advisors today. We can't tell you a lot right now but everyone agrees that this is going to be the prom of the century.
Those who voted for Chardon are sharing an image that says "This Fan Helped Chardon win Rock Your Prom". You can find the image here – www.Facebook.com/igotrocked Just hit share to let your friends know that the community really came together to help give Chardon a positive night that students will always remember.
March 14th, 2012
10:00 PM –
Rock Your Prom on Fox 8
4:00 PM –
Clear Channel Program Director/ Director of Social Media, Bo Matthews tweeted this yesterday and it's been retweeted over and over for more that 24 hours now!
@Bo_Matthews: Classy move NE Ohio- to vote for Chardon. Classy. bit.ly/xKw1F @igotrocked
Here's Bo being interviewed by Cleveland's Fox 8 news for tonight's upcoming story on Rock Your Prom.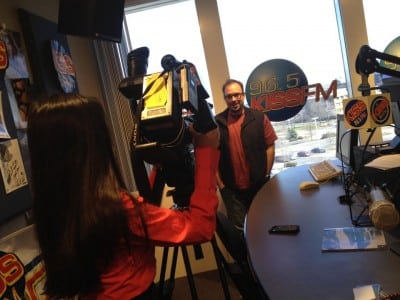 2:00 PM –
It seems like everyone in Northeast Ohio knows about Rock Your Prom! The Rock The House Facebook page has hundreds of likes, comments and shares regarding Chardon High School's big win.
March 13th, 2012
Congratulations Chardon High School! Your fans voted in mass and you are the winner of the first Rock Your Prom.
Listen here to 96.5 KISS FM's Kasper announce the winner for the first time.
We were overwhelmed by the response for our ROCK your PROM contest. Congrats to CHARDON for winning this year's contest. Here is a list of the top ten schools (in order of # of votes).
1. Chardon High School
2. Wooster High School
3. Western Reserve High School
4. Hoover High School
5. Mapleton High School
6. Brunswick High School
7. Vermilion High School
8. Normandy High School
9. Trinity High School
10. Theodore Roosevelt High School

March 10th, 2012
Our first Rock Your Prom campaign has been a big success. We couldn't be happier with the result of attention this has received due, in large part, to our partner 96.5 KISS FM Cleveland. KISS FM was the best type of partner we could ask for and we are excited to expand our already great relationship. We would also like to thank American Commodore Tuxedos for sponsoring this promotion. They had the insight to get on board for the first year of this and we're hoping students take advantage of their services.
The winner will be announced Wednesday, March 14. We would like to thank everyone who voted and organized other voters.
We will be posting the big announcement very soon!