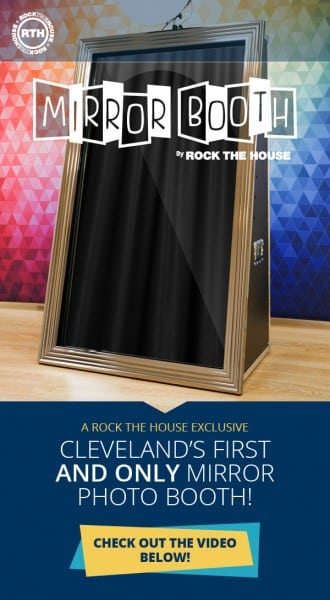 Do you have an event coming up and are looking for something that will keep your guests talking about your event for years to come? Well, look no further than Rock the House's very own Mirror Booth.
Mirror Booth is a one of a kind photo-generating product that becomes interactive while taking your picture. This full-length mirror offers a user-friendly interface, and allows guests to interact with it through a touch screen of vibrant animations and entertaining voice guidance. You can even draw on it!
Even cooler? After Mirror Booth has taken your picture, you have the option of either printing out the pictures right there, or sharing them straight to your social media platforms.
If these features alone aren't enough to convince you that Mirror Booth is a staple at any event, here is a list of reasons why Mirror Booth would be a great addition to any event.
Mitzvah: When it comes to deciding on a theme for your Mitzvah, the sky's the limit. But what's great about having Mirror Booth at your Mitzvah is that it will fit within any theme. That's right! As long as you are looking to entertain your guests and get them excited for the night's festivities, with Mirror Booth's sleek design, it will fit within any amazing theme and design concept you have for your party!
Corporate Event: Let's be honest, sometimes-corporate events can have a negative connotation, because well, they can be boring! Why not add something that will get your guests to interact with one another. It can actually serve as a great way for guests to meet and network. What is also great about Mirror Booth at a corporate event is the option to pick out custom frames. This way, Mirror Booth can fit any corporate theme, either contemporary or traditional.
Wedding: A wedding ceremony is all about two people coming together and making a commitment to one another, but the reception is all about the celebration! With its colorful animations and interactions with guests, Mirror Booth would be an amazing addition to your wedding venue! Guests will have a blast getting a group of friends and family together to take fun and creative pictures with them. It's a long lasting memory your guests will always have of your wedding day.
Trade Show: Trade shows are always showcasing the latest and greatest products. Vendors are competing to have the booth everyone is talking about and stopping at. One way to ensure yours is the talk of the show is by having Mirror Booth at your stand. As people are walking by your booth, they will be inclined to stop by and check out what the animated mirror is all about. Having Mirror Booth at your stand is one way to ensure you get a lot of attraction and stay top of mind.
Awards Banquet: An awards banquet is a celebration. So be sure to cap off that celebration with a fun picture for everyone to remember! Show off your awards in a fun way by drawing on the mirror and showcasing your hard work; all in a picture to remember for years to come!
Interested in a mirror booth? Contact our team of event pros to help you get started or to answer any questions you may have about the Mirror Booth!
https://www.rthgroup.com/wp-content/uploads/2018/02/RTH-WEB-LOGO-SIZE-03-400x66.png
0
0
mhadder4561
https://www.rthgroup.com/wp-content/uploads/2018/02/RTH-WEB-LOGO-SIZE-03-400x66.png
mhadder4561
2016-05-02 16:38:24
2019-07-22 13:43:35
Why a Mirror Booth Would Be a Great Addition to Any Event