A Youthful Inspiration Within the Warehouse
Rock The House has always been a company that looks at its own employees to grow and take on leadership roles. We embody the spirit of advancement from within the organization. With a constant growth, we make sure that when new employees join the team they are the right fit. In this special case, we were able to groom one from the beginning.
Chad Goldberg is one of the younger employees at RTH. So young in fact, we helped with his Bar Mitzvah only four short years ago. On his special day he got a taste of what it was like to party with RTH and couldn't let it go. He has now been with the team for two and a half years.  Chad believes in teamwork and knowing that events cannot come together single handedly.
"My favorite part of being part of this team is knowing that I can always rely on any other member of the team for help and to get our assigned job done efficiently.
Being part of the RTH team means, a lot since it is such a unique job. I get to come to work every weekend and see a tremendous amount of talent all come together and do what we love. Being part of the RTH team is like being part of a second family; we spend so much time together that we all get to know each other very well."
Production Manager Ben Allison strongly believes in Chad's abilities. So much so that he even lets him take the lead on some warehouse work.
"Chad is a motivated, self reliant, team player. He does what is needed to get the job done and supports his co-workers, all while soaking up anything and everything he can learn. He is important because seeing a young face striving for so much and achieving, inspires and motivates others. I hope that people can draw from his positive attitude and leadership mentality."
Chad began at Rock The House as a shop assistant. Performing manual labor such as moving road cases, sweeping the shop, wrapping cables, and every other task you can image in a production warehouse.  His perseverance has pushed him to where he is now. A lot can happen in two and a half years, and with his head held high, Chad will become even more valuable as years go bye. His passion for event production is unmatched when it comes to his age group.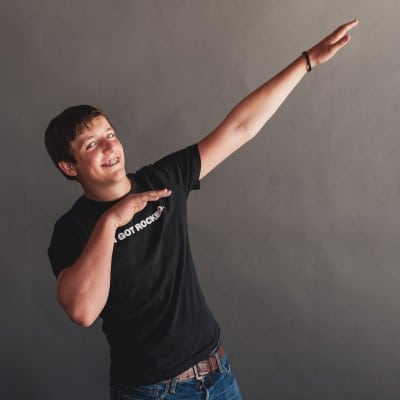 "The thing I enjoy most about contributing to clients events is seeing their initial reaction when they walk into the venue and putting forth my best effort to make it an enjoyable, memorable event."
We truly enjoy having Chad around the shop and office. He is always eager to help out and his thirst for learning will take him far.
https://www.rthgroup.com/wp-content/uploads/2018/02/RTH-WEB-LOGO-SIZE-03-400x66.png
0
0
mhadder4561
https://www.rthgroup.com/wp-content/uploads/2018/02/RTH-WEB-LOGO-SIZE-03-400x66.png
mhadder4561
2014-10-28 10:20:46
2014-11-05 10:22:50
Team Member of the Month – Chad Goldberg