As 2016 slowly begins to wind down, our ROCKstar of the Month for November is none other than our Talent Director, Travis Rose! Also acting as one of our finest Lead Entertainers, Travis has been a part of the Rock The House team for almost 5 years.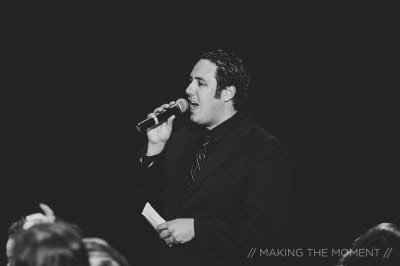 Born to perform, Travis has been rocking stages since he was only 3 years old! This trend only continued over time, as Travis began DJing during his college years at Bowling Green State University. After completing his undergrad at BGSU, Rose continued to pursue his academic studies at Lake Erie College, where he would go on to earn his Masters Degree in Business. Aside from entertaining and supervising our entertainers, Travis has done nearly every job in the company at some point or another.
A Few Fun Facts About Travis Rose:
Guilty Pleasure Song? Anything Stevie Wonder (BUT 'Sir Duke' really gets him going!)
Favorite Artist(s)? Kanye West, but believes Michael Jackson is the most influential musician in history.
Pre/Post Event Snack? Sugar-free Red Bull is always a go-to before a show, but afterward you can catch him heading to Taco Bell for Fourth Meal.
Favorite Thing About Being on the RTH Team? "You get to be such an important part of some of the biggest days in peoples' lives, and getting paid to make people happy is a pretty cool job."
While we are very happy to declare Travis as our Rockstar of the Month for November, it is bittersweet as he steps down from his role as Talent Director and continues to advance his career away from Rock The House. As a valued member of the RTH family, Travis had the following to say about his time as Talent Director:
"One of the most rewarding things about this role at RTH is developing up and coming entertainers, and sharing my insight that I've learned throughout my career to watch them develop into ROCKstars themselves. I feel honored to be the Rockstar of the Month, as I know I work amongst a team of VERY talented individuals." – Travis Rose
Travis has been a great employee throughout his time at Rock The House, and it is clear that his influence on our company has been a positive one.
"There's some employees that respect a position, while others respect the person in it… I think its very rare that we find someone who deserves so much respect, but never has an issue getting it from our employees. As a human resources manager he was fair, but always placed the best interest of our employees as a high priority to help them grow, and to make the best working environment possible for them." – Ryan Konikoff, Chief Operating Officer
We wish Travis Rose the best on his future ventures, but are happy to say that he will still be working as one of our finest entertainers! That means no worries if you're interested in working with Travis for your next event.. Just contact our team of event professionals today to get started! Photos courtesy of Making The Moment Photography and the Rock The House Photo Archive.
https://www.rthgroup.com/wp-content/uploads/2018/02/RTH-WEB-LOGO-SIZE-03-400x66.png
0
0
mhadder4561
https://www.rthgroup.com/wp-content/uploads/2018/02/RTH-WEB-LOGO-SIZE-03-400x66.png
mhadder4561
2016-11-15 14:07:12
2020-02-13 10:38:28
ROCKstar of the Month of November: Travis Rose