On Wednesday, July 14, 2010 some Clevelanders were still mourning the loss of LeBron James… while others celebrated summer at the sold-out Lady Gaga's Monsters' Ball at the Q!  RTH was asked to host the VIP Pre-party with SLO VIP Services.
At the VIP party Ryan and Eli  worked as a MC/DJ combo to entertain the GAGA VIPs before the show on the Cavalier's practice court at the Q.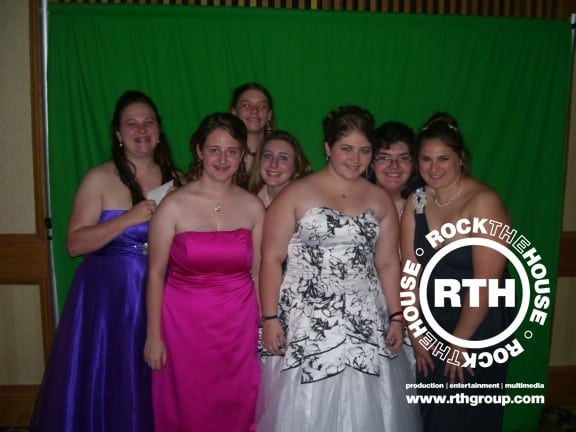 In an interview with Ryan, RTH Intern, Elena asked:
How would you describe the over-all experience at the Lady Gaga VIP Party?
Ryan:  " The overall experience was awesome, it is not every day that I have to get people psyched for the concert of their dreams. It was a lot of pressure but everyone was in the mood to get wild".
How would you describe the dynamic of concert-goers?
Ryan – "It started off a little bit uncomfortable for some people since the mix of GAGA fans were 18-24 year old females and 30 year old gay men who dressed crazy, over-the-top, and flamboyant."
What did you do to make people loosen up and go more Gaga?
Ryan – "Once the music got started the awkwardness went away and you have these 18year old ladies dancing with these 30 year old gay man! What an experience!"
RTH not only provided music for this over-the-top escapade, but we also dressed the room up with crazy-fun lighting to set the mood for the beginning of the evening. The dance floor fixture had multi color lighting, going around the room making the energy high and the experience exciting.
The Lady and her little monsters were dressed to the nines for this over-the-top display of creativity, live music and performance.
RTH's MC and VP of Sales, Jeff Kutz says:
Lady Gaga is the Madonna of our generation. Her voice is unbelievable. The production of the show, reminded me of a sold-out hit in Las Vegas… maybe even better. I can't wait to hear her perform, 20 years from now in a small theater with nothing but a microphone and a piano.
For those of you who missed the show, don't be afraid to live vicariously through these images. To see more, go to our photo archive at rthgroup.com!
https://www.rthgroup.com/wp-content/uploads/2018/02/RTH-WEB-LOGO-SIZE-03-400x66.png
0
0
mhadder4561
https://www.rthgroup.com/wp-content/uploads/2018/02/RTH-WEB-LOGO-SIZE-03-400x66.png
mhadder4561
2010-07-21 11:30:48
2011-08-30 23:04:33
Rock The House Goes Gaga!