May's ROCKstar of the Month is Lauren McMichael! Lauren is what we like to call the "brains of the operation." As Client Coordinator, she works behind the scenes to make sure all our events go smoothly in advance of them being executed. She keeps the office organized and running efficiently to ensure we stay on top of our game at all times!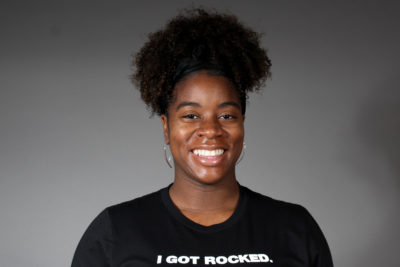 "What I find rewarding about working at Rock The House is the fact that everything we do affects someone's life, and often it's the biggest day of their lives! Between weddings, bar/bat mitzvahs, even some of the end-of-life celebrations we do, we are affecting people in a big way. Our company makes a lasting impression on our clients forever, and I get to be a part of that." – Lauren McMichael, ROCKstar of the Month
She really loves the live events industry because it's exciting and there's never a dull moment. "I've worked in many industries, like retail, child-care, and a few others, but this one is always so fresh and different. I'm always learning something new." She's actually always been surrounded by this exciting environment as her mother plans weddings. Now, as Client Coordinator for RTH, Lauren gets to make a big impact on clients every single day just like her mother does!
A Few Fun Facts About Lauren McMichael:
Favorite guilty pleasure song? The Sing soundtrack
Favorite song and/or artist? My favorite artist is India.Arie
Favorite movie? So many – The Waitress and The Lion King
Favorite TV show? Any kind of cooking show – I watch them all! When I retire I think I'm just going to cook and bake a ton.
Favorite pre-event snack? Skittles
Favorite post-event snack? McDonald's
Favorite cartoon character? Tweety Bird
Where's the most interesting place you've ever traveled? Huntington Beach, California
How do you take your coffee? Black
If you could have a superpower, what would it be and why? Be invisible – not only could I hide from my children, but then I could disappear and reappear whenever I wanted to.
"Lauren has done a superb job keeping the team on track with event assets and has also been willing to pick up additional responsibilities to be a team player and help us reach our overall goals. Not only does Lauren prep each and every binder and bookbag that goes out for events, during the past couple months Lauren has also assisted in planning the MayZone Saturday fun nights. I am so proud of her growth and can't wait to see her continue to provide more knowledge and expertise to make our team stronger!" – Amy Van Duyne, Vice President, Operations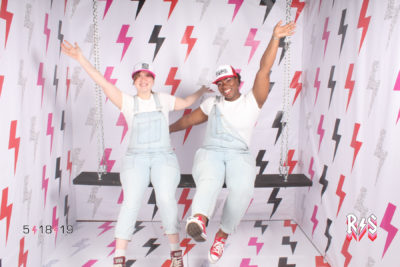 Though she's normally behind her desk at the office, Lauren also works as one of our on-site photo hosts as well, which has allowed her to get more hands-on experience with our events. Lauren's favorite event so far has been Metro 2017 because it was the first time she was able to get involved with a large event. She learned a lot, and she was able to see a lot of the work she does during the week get executed on site to make the conference run smoothly.
When not at Rock The House, Lauren has two beautiful children that she says she "actually enjoys hanging out with and taking to the park." When given the chance, she's always open to napping or getting ice cream as well.
Congratulations to Lauren on being May's ROCKstar of the Month! Interested in working with ROCKstars like Lauren to produce your next event? Contact our team of event professionals today to get started! Photos courtesy of the Rock The House Photo Archive.
https://www.rthgroup.com/wp-content/uploads/2018/02/RTH-WEB-LOGO-SIZE-03-400x66.png
0
0
mhadder4561
https://www.rthgroup.com/wp-content/uploads/2018/02/RTH-WEB-LOGO-SIZE-03-400x66.png
mhadder4561
2019-05-30 11:57:34
2019-05-30 12:21:59
ROCKstar of the Month of May: Lauren McMichael