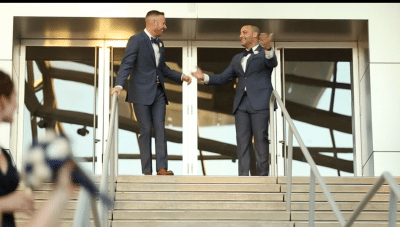 Rock The House makes dream weddings a reality for hundreds of couples each year. However, it's not every day that one of those couples is a member of our team! A few weeks ago we had the pleasure of helping our own Marketing Manager, Nick Duvé and his husband, Stephen Duvé, celebrate one the best nights of their lives in one of the greatest weddings productions we've ever put on.
As a former DJ and Host at Walt Disney World in Orlando, Florida and a connoisseur of 'Fairytale Weddings', as well as his time spent with us at Rock The House, Nick has seen just about any wedding possibility you could think of. That all being said, Nick had gathered plenty of ideas for his own wedding throughout his years in the industry… and he had all the resources to make them happen. With the help of Meredith Masaveg of Rain Wedding Planning, Nick and Steve began planning their big day.
"This wedding was much more then just about Steve and I. It was about celebrating all of the friends and family who have helped us along our journey. We wanted to give them an experienced they will never forget and with the help of some very talented vendors, and I think we accomplished that". – Nick Duve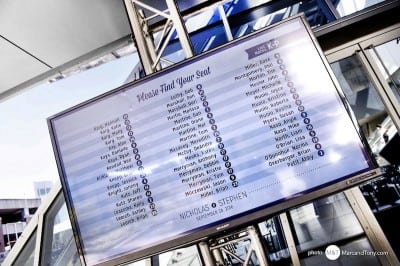 The Duvés decided that the Akron Art Museum was the perfect location for both their wedding ceremony and reception to take place. An already stunning venue, Rock The House provided full production and lighting work throughout the museum, while our sister company Selective Sound Entertainment provided ceremony services, with Vice President "Jay R." Rich as the officiant and first DJ. Chairs the wedding and reception were provided by Be Seated. After the ceremony guests were invited onto an outdoor dancefloor for cocktail hour, before stepping inside the newly-transformed art museum for the dinner reception.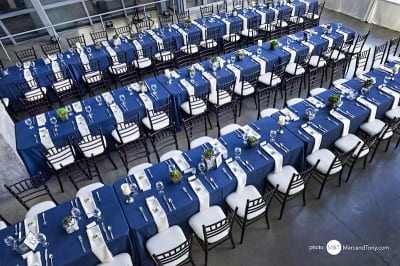 A beautiful ceremony is only complimented by an unbelievable reception, and that became no clearer to guests than when they first stepped inside the building. After a 5-star dinner provided by Driftwood Catering and frosty desserts brought by Mason's Creamery, guests were personally invited once again onto the outdoor dancefloor by Nick and Steve for their first dance and formalities. However after a short time of dancing, guests were stopped by RTH MC Sparky B. and invited back inside the building for a very special surprise from Nick and Steve. The Duvé's weren't done quite yet.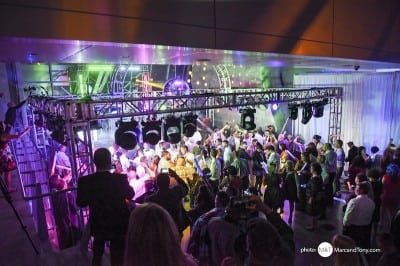 When guests arrived back inside, they were in awe to see a Vegas-inspired dance club, which had been in plain view the whole time, but simply hidden behind a wall of drapery! The perfect light show was coordinated by an RTH lighting designer as Sparky B. continued to hype up the crowd! Lights were only the beginning, as the Duvés surprised their friends and family with music by celebrity DJ Brian Dawe of VH1 & MTV! The night to remember was all captured on film by Matt Reisinger of Elite Entertainment, and still-frame images were shot by Marc Anthony & Tony Ryan Photography. Special thanks also go out to L'Nique Linen Rental, Nikki's Perfect Petal Designs, Paul Mitchell the School: Cleveland, and Justin Campbell from the Akron Art Museum, who all did their part to make the day a success for the Duve's! You can find more pictures, and videos from the Duvé Wedding by following the hashtag #HereComeTheDuves.
Want Rock The House to make your dream wedding a reality? Contact our team of event professionals today to see what we can do for you! Photos courtesy of Marc Anthony & Tony Ryan Photography and The Rock The House Photo Archive. Videos courtesy of Rock The House and Matt Reisinger of Elite Entertainment.
https://www.rthgroup.com/wp-content/uploads/2018/02/RTH-WEB-LOGO-SIZE-03-400x66.png
0
0
mhadder4561
https://www.rthgroup.com/wp-content/uploads/2018/02/RTH-WEB-LOGO-SIZE-03-400x66.png
mhadder4561
2016-12-29 12:07:41
2019-07-22 13:35:07
RTH Signature Event: The Duve Wedding