With so many large events happening for us in January, it only makes sense that our first ROCKstar of the Month for 2017 is one of our top project managers, Cory Shy! Cory has been an RTH team member for 6 years now, originally starting as a part-time technician and continuing to work his way up to more leadership roles through our production sector, RTHAV.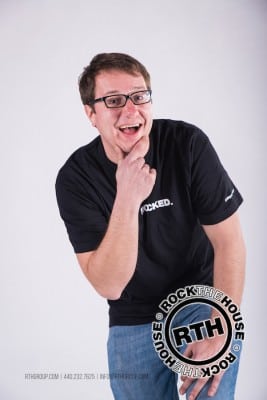 A renaissance man of the production world, Cory is well-versed in many different fields ranging from video, to lighting, to audio. Most recently, Cory has taken full control of the Today's Bride Wedding/Fashion Shows. With Rock The House (RTHAV) acting as the official production partner for these shows, there are a lot of moving parts involved in making an event of this magnitude come alive. However, having proven his responsibility and leadership skills time and time again, Mr. Shy handles projects like this without a hitch by expertly directing fellow team members to ensure everything runs at company standards.
A Few Fun Facts About Cory Shy:
Favorite Cartoon Character? Rocko from "Rocko's Modern Life"
Favorite Movie? The original "Jurassic Park" (After seeing the film with his brother in theaters when he was about 6, it lead him to read the original Jurassic Park novel, as well as other works by author Michael Crichton.)
Favorite Artist(s)? Flaming Lips
Pre-Event Snack? Ohio City Subs's "C-Town Slugger" … By far the best gas station sandwich around.
Guilty Pleasure Song? Katy Perry – California Gurls
Favorite RTH Event? About two summers ago, both Conny sisters got married and we collaborated on two massive tent weddings at Conny Farms with our sister company Selective Sound Entertainment. The setups took a whole week (each), and featured thousands of feet in string lighting and over two dozen different chandeliers.

Favorite Thing About Being on the RTH Team? The ability to have different work stations at various job sites makes it something fresh and new every day. Some things remain constant, but the people and clients always change, and it allows you to work outside your comfort zone. Plus there's a great team behind us that enables us to always have what we need and work at such great venues.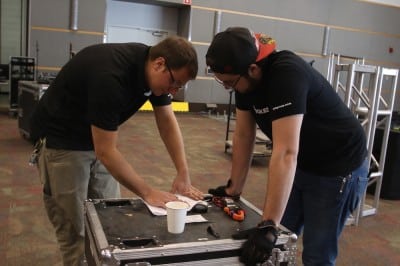 "Cory's a terrific team member to have and a great part of our roster. He continues to increase his responsibilities so that as we grow, we grow together." – Ben Allison, Production Manager
Regardless of all his accomplishments during his time at Rock The House, Cory continues to credit our team for contributing to his success.
"I'd be nothing without the people that guide me… The people who have taught me, work alongside me, and have helped me achieve the level of production our shows have, and require. I wouldn't be where I am without them… It's a big group effort. – Cory Shy
Congratulations to Cory again on being awarded the ROCKstar of the Month, and we thank him again for all his hard work, dedication, and service! Interested in working with Cory Shy for your next event? Contact our team of event professionals today to get started! Photos courtesy of the RTH Photo Archive.
https://www.rthgroup.com/wp-content/uploads/2018/02/RTH-WEB-LOGO-SIZE-03-400x66.png
0
0
mhadder4561
https://www.rthgroup.com/wp-content/uploads/2018/02/RTH-WEB-LOGO-SIZE-03-400x66.png
mhadder4561
2017-01-25 15:31:20
2017-03-21 10:27:52
ROCKstar of the Month of January: Cory Shy