July's ROCKstar of the Month is Garrett Beck! Garrett is one of the newest members of the RTHAV production team, but he's quickly become a driving force of positivity throughout the warehouse and brings that energy to everyone he works with, and every event he works on.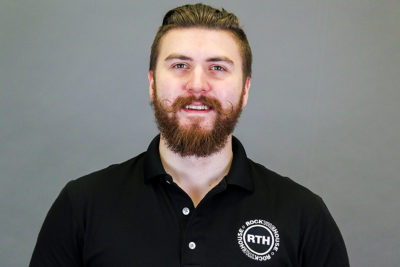 "My favorite part of being on the Rock The House team is the more social atmosphere added to the corporate atmosphere. It's so much more than speakers in a room; we get to be the hype men for our events. It's about making sure the guests have a great time and we put on an awesome event for them." – Garrett Beck, ROCKstar of the Month
Despite only being with RTH for about 6 months, he's worked many of our more elaborate events and has done an amazing job on all of them. His favorite? A huge "mega-mitzvah" held at the Agora in Cleveland, Ohio. He enjoyed that it brought so many of our team members together for one event. Plus, everyone had a chance to go all out with their performances, costumes, and production elements that night.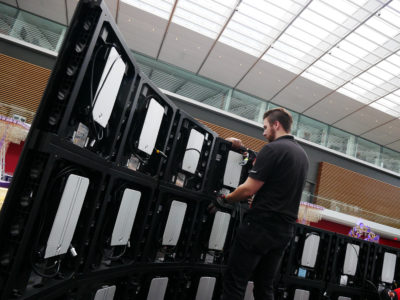 A Few Fun Facts About Garrett Beck:
Favorite guilty pleasure song? "Toxic" by Britney Spears
Favorite song and/or artist? Blink-182
Favorite movie? The 13th Warrior
Favorite TV show? Westworld
Favorite pre-event snack? Red Bull
Favorite post-event snack? Taco Bell
Biggest fear? Being stranded somewhere
Where's the most interesting place you've ever traveled? Mont Saint-Michel in Normandy, France. It's an island that used to be unreachable during certain times of the year because of the water-level covering the causeway. There's a fortress on top of it, and back in the day soldiers would get stuck in quicksand trying to storm it. It was a virtually impenetrable fortress, and really awesome to see in person.
How do you take your coffee? Straight black
If you could have a superpower, what would it be and why? Telekinesis, because it would make load-ins and load-outs much quicker.
"Garrett has not only taken on his role of Video Specialist but has also found time to work as an audio engineer and stepped up to assist with some internal audio training. Additionally, he's been training new and existing team members, making suggestions for equipment to help our team improve, and offering his knowledge to problem solve. He's willing to share his wealth of knowledge and skills with everyone and we are so happy to have him as part of our team." – Tricia Adams, Production Assistant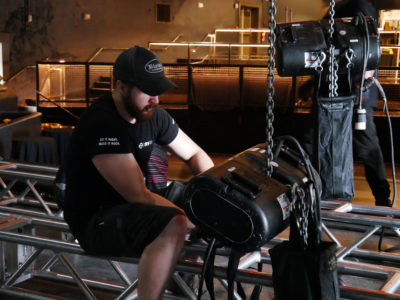 Garrett and his family have had a long history in the event/entertainment industry. His grandfather was in a band and had a recording studio at his home in Texas. His father was a roadie for that very band and always enjoyed music. He made sure to make music and performance a huge part of Garrett's life as well. For him, it felt like a natural calling to go into the events industry.
Garrett enjoys working with everyone at RTH because they're all so appreciative of each other and ready to get the job done and get it done right. When he's not producing incredible events with the team, you can find him at Medieval combat competitions, working with the animals at his in-laws' farm, or playing video games.
Congratulations to Garrett on being July's ROCKstar of the Month! Interested in working with ROCKstars like Garrett to produce your next event? Contact our team of event professionals today to get started! Photos courtesy of the Rock The House Photo Archive.
https://www.rthgroup.com/wp-content/uploads/2018/02/RTH-WEB-LOGO-SIZE-03-400x66.png
0
0
mhadder4561
https://www.rthgroup.com/wp-content/uploads/2018/02/RTH-WEB-LOGO-SIZE-03-400x66.png
mhadder4561
2019-07-31 08:58:42
2019-07-31 08:58:42
ROCKstar of the Month of July: Garrett Beck