No one knows how to party like party makers, That said, no one is more critical of events they attend, either. Knowing about that double-edged sword L'Nique was able to put on a perfect event for those with the most discriminating tastes. March 22nd, 2012 was the annual open house for the event linen company, L'Nique. One of the secrets to the success of this event is – collaboration. A number of the best creative event designers were asked to take part in creating this unique and very looked forward to the annual event. Everyone had their own area to design and make their own but it all still fit within the overall feeling of the event.
Check out this video wrap-up of the event:
L'Nique' 2012 Fete Open House Event from RTH Multimedia on Vimeo.
Rock The House had the pre and post event tent space to design. Our lighting set the mood for two distinctly different vibes. The pre-event time was one of networking, hors d'oeuvres, and signature cocktails. What really told people they were at something special was the live performance by one of the region's most sought after live bands, Run Avril Run.
The next stage of the event was located in L'Nique's warehouse. Every once in a while you would see something that would remind you that this was in a working warehouse. Most of the time, however, guests were almost overwhelmed with all the inspiration. Different designers brought their A-Game in a collaborative and healthy competition. It's what drives true stars in our industry to create memorable and original works of art.
Following the innovative design-scapes of the warehouse, guests let their hair down and hit the dance floor in a transformed tent area and dance floor. Rock The House provided a club-like atmosphere for a group ready to ROCK on the dance floor. The bar has been raised once again for this event and we are happy to have been asked to be a part of this special event.
Rock The House Entertainment event specialists are ready to hear what your unique event goals are and will make them a reality.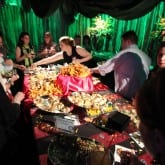 https://www.rthgroup.com/wp-content/uploads/2018/02/RTH-WEB-LOGO-SIZE-03-400x66.png
0
0
mhadder4561
https://www.rthgroup.com/wp-content/uploads/2018/02/RTH-WEB-LOGO-SIZE-03-400x66.png
mhadder4561
2012-04-05 16:00:32
2019-07-26 16:54:41
L'Nique's Fete 2012 Open House Event