Tuesday August 24, 2010
Rock and Roll Hall of Fame and Museum
By: Jessa (Goodworth) Hochman
On Tuesday, August 24, 2010 an outstanding selection of Event professionals came together at one rocking venue for the Rock and Roll Hall of Fame and Museum's annual Rock Star Night. While in the company of:
Ghost Light Productions
Something New Floral and Events
Fallon's Photography
Event Source
L'Nique Linens
MVP Valet Services
Executive Caterers
SharpShooter Imaging
The Rock and Roll Hall of Fame and Museum
Rock The House Entertainment
Vincent Lighting Systems
Upon arriving at the event, I was politely and energetically greeted by MVP Valet. They swiftly showed me onto a red carpet, provided by Event Source and I was on my way into this glamorous get-together. I was offered a drink – provided by Executive Caterers. According to Nick Borelli of Executive Caterers:
The introductory drink that each guest received was the Sparkling Hibiscus. I added San Pellegrino water to The Lounging Gourmet's Hibiscus Elixir. The Lounging Gourmet, is a local company producing the best cocktail mixers I've ever had the pleasure trying.  The reason we wanted to introduce everyone with a drink is because it really helps acclimate people to a room quickly. It's a great welcoming gesture that creates a real V.I.P. feeling.
I certainly felt like a V.I.P.  I checked in with security, and because of my journalistic mood, I asked each security guard, "Who was the coolest Rock Star you have met since you've been working here at the Rock Hall". One said, "Alice Cooper – he is the nicest guy". And the other told me, "I will never forget meeting Lady Gaga's Dad – he's so normal".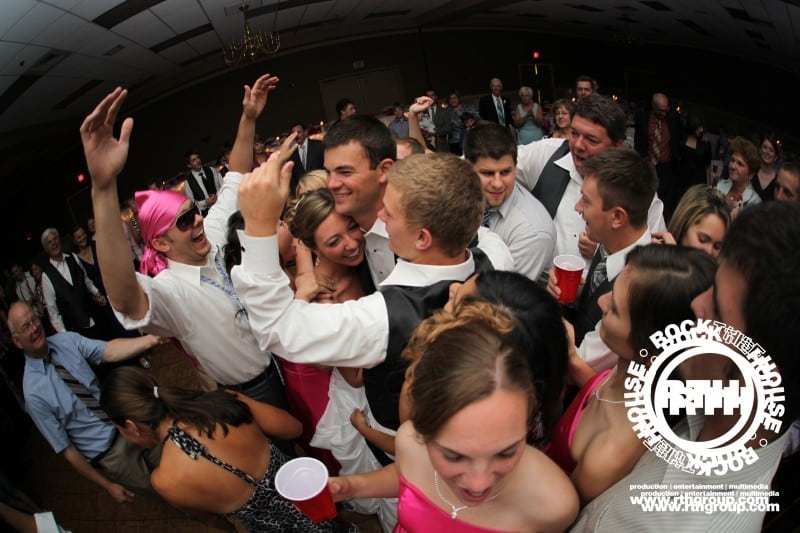 I took the elevator upstairs to the café level where I found many of my event friends networking and meeting potential new clients. I found my co-worker, Jeff Kutz, from Rock The House, hanging out with Tyler from MVP Valet Services and Marci Izeman from Executive Caterers, discussing the fabulous food and drink provided by Executive Caterers.
As usual, I saw the gang from Event Source. I went through and tasted every hors d'oeurve and dessert with Rick Turner, a fun-loving foodie.
While Deb Hermann from Ghostlight Productions was taking a shot of tequila from a Rock The House shot glass, I found the hostess of the event – Anne Siegal with The Rock Hall with the MC of the night – RTH's owner, Matt Radicelli.
I found two of the most charming men- Joe Mineo of Something New Floral and Events with Charles from  Executive Caterers. Charles discussed how wonderful it was to see old friends and meet new clients, and Joe was anxiously waiting to recieve a temporary tattoo!
It was a wonderful night that made me fall more in love with Cleveland's event industry. In addition to spending time at this first-class venue, all of the extra special touches- the valet service, the red carpet and the specialty drinks – made all in attendance feel like REAL Rock Stars.
*More photos to come shortly!
https://www.rthgroup.com/wp-content/uploads/2018/02/RTH-WEB-LOGO-SIZE-03-400x66.png
0
0
mhadder4561
https://www.rthgroup.com/wp-content/uploads/2018/02/RTH-WEB-LOGO-SIZE-03-400x66.png
mhadder4561
2010-09-30 12:05:14
2011-08-30 23:04:32
A Night That Rocked