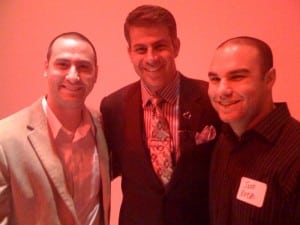 On Wednesday, November 18, 2009 Total Entertainment's Michael Cerbelli traveled to Pittsburgh to once again teach his "Hot Event & Entertainment Ideas". The Greater Cleveland ISES Chapter had 5 members in attendance; John Bibbo, Jr. (Event Source), Rick Turner (Event Source), Deb Hermann (Ghostlight LLC), Jeff Kutz (Rock The House), and me – Matt Radicelli (Rock The House).
The Pittsburgh ISES Chapter KNOCKED IT OUT OF THE PARK. The space where the event was held is a photo and film studio with multiple rooms and staged areas… fully functional kitchens, doors, staircases, textures – it was amazing. The food was provided by Bob Sendall from All In Good Taste Productions. My personal favorite was the Chicken & Dumplings – Fabulous.
While I'll drive to Pittsburgh anytime to network with amazing event professionals, the real hook for me was being able to see my friend Michael Cerbelli speak/teach so close to home. I first met Michael at a private retreat in 2005 and since then, he never ceases to amaze me. He always remembers my name and the names of those around me, and always has positive and uplifting things to say. When you're around Michael, you truly feel like family.
I'll surely be using some of Michael's "Hot Event & Entertainment Ideas" in the coming year. I'll see you at TSE (The Special Event) in New Orleans for sure. Thanks again, Michael.
https://www.rthgroup.com/wp-content/uploads/2018/02/RTH-WEB-LOGO-SIZE-03-400x66.png
0
0
mhadder4561
https://www.rthgroup.com/wp-content/uploads/2018/02/RTH-WEB-LOGO-SIZE-03-400x66.png
mhadder4561
2009-11-18 10:23:25
2020-02-12 10:37:20
Michael Cerbelli @ Pittsburgh ISES event