Bar / Bat Mitzvah Party Favors & Novelties
Novelties (Dance Floor Giveaways)
Novelties & dance floor giveaways create bursts of energy all night long! RTH orders the latest and greatest products from reputable sources so you can be sure you're getting what you're paying for! Can you order novelties on your own and save $22… probably… or you can order the from Rock The House, then sit back, relax and enjoy your event!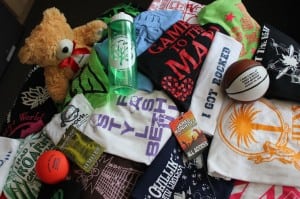 Apparel
Everyone needs a party favor – Our signature t-shirts and apparel are a fun and inexpensive way to accomplish this goal. The front reads "I Got Rocked", while the back is custom designed for any occasion. Hand them out to wear during the party, give them away at the end of the event, or use them as seating place cards!
Product Ideas:
Sweatshirts
Hats
Bags
Cheerleading Shorts
Basketball Shorts
Bandanas
Thunder Sticks
Dog Tags
Water Bottles
Sweat Pants
Contact Rock The House today for more information on Bar / Bat Mitzvah entertainment.