The Rock The House Hall of Fame
Since 2008, Rock The House has been awarding team members at their staff party with a few annual awards and acknowledgements.
These honors are a way to call attention to those who have been remarkable during the past year.
The annual awards are as follows:
Max Nelson Award – Heart. Teamwork. Rock The House Culture
Steve Tanruther Award – Great Use Of Technology To Impact Rock The House
Faucet Award – Excellence In Dance And Motivation Of Both Clients & Team
Rock The House Team Member – Performance. Attitude. Overall Impact
Matt Radicelli Renaissance Man Award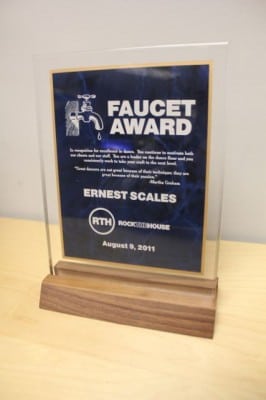 In addition to these honors, there are a number of awards given to signify milestones reached with Rock The House.
A Progressive List of our Award Winners:
Matt Radicelli Renaissance Man Award Winners
2018 Matt Radicelli Renaissance Man Award: Amy Van Duyne
2017 Matt Radicelli Renaissance Man Award: Nick Duve
2016 Matt Radicelli Renaissance Man Award: Travis Rose
2015 Matt Radicelli Renaissance Man Award: Ryan Durfee
Rock The House Award Winners
2018 Rock The House Award: Tricia Adams
2017 Rock The House Award: John Vlach
2016 Rock The House Award: Nick Duve
2015 Rock The House Award: Kelly Clymer
2014 Rock The House Award: Amy Van Duyne
2013 Rock The House Award: Julian Mendez
2012 Rock The House Award: Ben Allison
2011 Rock The House Award: Jeff Kutz
2010 Rock The House Award: Shawn Smutak
2009 Rock The House Award: Ryan Konikoff
2008 Rock The House Award: Katie Arthurs
Faucet Award Winners
2018 Faucet Award: Nate Diggins
2017 Faucet Award: Carlin Dixon
2016 Faucet Award: Nick Lockhart
2015 Faucet Award: Mychael Delano
2014 Faucet Award: Vince "Speedy" Rosado
2013 Faucet Award: James "Showtime" Burkes
2012 Faucet Award: Lianne Zydowicz
2011 Faucet Award: Ernest Scales
2010 Faucet Award: Emma Zagar
Max Nelson Award Winners
2018 Max Nelson Award: Clay Sullivan
2017 Max Nelson Award: Gordon Foust
2016 Max Nelson Award: Brian Raymont
2015 Max Nelson Award: Jacob Williams
2014 Max Nelson Award: Travis Rose
2013 Max Nelson Award: Marissa Austin
2012 Max Nelson Award: Nate Williams
2011 Max Nelson Award: Carmen Moscarillo
2010 Max Nelson Award: Zach Svoboda
2009 Max Nelson Award: Eli Cohen
2008 Max Nelson Award: Max Nelson
Steve Tanruther Award Winners:
2018 Steve Tanruther Award: Jeremy Guffin
2017 Steve Tanruther Award: Cory Shy
2016 Steve Tanruther Award: Kristen Milius
2015 Steve Tanruther Award: Jeremy Guffin
2014 Steve Tanruther Award: Cory Shy
2013 Steve Tanruther Award: Ryan Durfee
2012 Steve Tanruther Award: Alex Kay
2011 Steve Tanruther Award: Zach Svoboda
2010 Steve Tanruther Award: Ben Claussen
2009 Steve Tanruther Award: Ben Allison
2008 Steve Tanruther Award: Steve Tanruther
1,000 Shows
500 Shows
Jeff Kutz
Tim Frankish
Shawn Smutak
Kevin New
Matt Radicelli
250 Shows
Samantha Fox
Evan Guffin
Jeremy Guffin
Sean Tyrrell
Cory Shy
Myke Delano
Ben Allison
Lianne Zydowicz
Julian Mendez
Alex Kay
Ben Claussen
Eli Cohen
Katie Arthurs
Jeff Kutz
Shawn Smutak
Tim Frankish
Matt "Webster" Kies
100 Shows
Nathan Diggins
Ryan Durfee
Gordon Foust
Chad Goldberg
Matt Heyl
Bryan Wolbert
Alyssa Watson
Evan Guffin
Jacob Williams
Jeremy Guffin
Kelly Clymer
Kristen Milius
Nick Lockhart
Sean Tyrrell
Travis Rose
Mychael Delano
Lianne Zydowicz
Carmen Moscarillo
Ernie Scales
Aaron Lewis
Paige Scott
Nate Williams
Ben Allison
Leah Grinnel
AJ Hughes
Zach Svoboda
Emma Zager
Alex Kay
Eli Cohen
Natalie Ramey
Julian Mendez
Ben Claussen
Aaron Lewis
Candace Burns
Jenn Arthurs
Katie Arthurs
Drew Golub
Jeff Kutz
Soy Sims
Anthony Vince
Max Nelson
Scott Singerman
15 Years with Rock The House
Matt Radicelli
Ryan Konikoff
Steve Tanruther
10 Years with Rock The House
Shawn Smutak
Kevin New
Jeff Kutz
Ryan Konikoff
Tim Frankish
Matt Randicelli
Steve Tanruther
5 Years with Rock The House
Jeremy Guffin
Travis Rose
Alyssa Watson
Cory Shy
Evan Guffin
Jesse Ory
Josh Brown
Kurt Wick
Sam Fox
James Burkes
Jared Marks
Kevin "KC" Cunningham
Leah Grinnell
Alex Kay
Ben Claussen
Thaiger Adanoldo
Julian Mendez
Katie Arthurs
Matt "Webster" Kies
Jeff Kutz
Shawn Smutak
Max Haze
Amanda Peel
Scott Singerman
Perry Wolf
3 Years with Rock The House
Brian Cleveland
Marissa Diaz
Anthony Medina
Kristen Milius
Devin Moore
Brooke Seigler
Amy Van Duyne
Jacob Williams
Kelly Clymer
Kevin Wilson
Leah Berdysz
Matt Heyl
Myke Delano
Sean Tyrrell
Travis Rose
Tim Long
Nicholas Lockhart
Jarrid Gentile
Chad Goldberg
Jeremy Guffin
Ernest Scales
James "Showtime" Burkes
Jared Marks
Nate Williams
Beth Reyes
Kevin Root
Shane LaPlante
Brent Motika
Brian Conti
Dennis Nero
Zachary Svoboda
Jack Lyttle
Jessica Silver
Ben Allison
Lianne Zydowicz
Eric Davenport
Matt "Donnie" Smith
Ryan Durfee
Victoria Conley
Troy Greenfield
Leah Grinnel
Mac Kahn
Alex Kay
Natalie Ramey
Emma Zager3
Drew Golub
Ben Claussen
Candace Burns
Aaron Lewis
Chris Harris
Jenn Arthurs
Julian Mendez
Rick Ruckur
Soy Sims
Anthony Vince
Will Khun
Max Nelson